Bringing the local store closer
By Reena Mehta | November 16, 2015
Zopper's first mass market campaign aims to represent the brand as one that embodies the trust of the local retailer and the convenience of online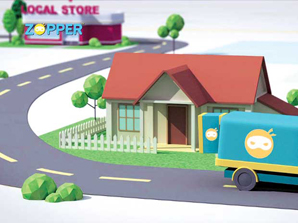 Until now local service and food aggregators - such as UrbanClap, TinyOwl, Timesaverz, Grofers etc - have dominated the hyperlocal e-commerce segment. Here's a new brand that hopes to break the clutter by connecting local retailers selling consumer durables, home appliances and electronics with consumers.
"Zopper enables local retailers to participate in the online commerce boom and compete with big e-commerce players such as Flipkart, Snapdeal and Amazon. That said, 95 per cent of the consumer durables category is still offline. This category is not just about purchase. These are high-value products that need servicing and on an average have a long lifespan of at least five years. And consumers have traditionally trusted local retailers for buying such products. Zopper addresses this pain point by connecting trusted local retailers with consumers," says Harneet Singh Rajpal, CBO, Zopper.
Here is how Zopper works: It offers a search-online-and-purchase-either-online-or-offline model. Consumers can browse the wide range of products available across categories from the nearest local stores on Zopper's mobile app. Consumers can either place the order online through its app or can visit the store for a personalised experience before purchase.
"The entire inventory of the retailers and prices are available online, thus reducing a consumer's need to visit shops and searching for best prices and models before making a purchase online. Zopper enables discovery of these local retailers, which otherwise don't spend much on marketing. We have 10,000 retail partners. They have Zopper merchant app and receive order directly from the customer and then fulfil the order. The logistics and shipping is managed by the local retailers themselves. Since it is hyperlocal, the products are eligible for free 24-hour express shipping," says Singh.
Conceptualised by Lowe Lintas Delhi, the two-film campaign Online shopping ka convenience with local store ka bharosa features local retailers talking about trust and value they bring to consumers. Zopper has invested Rs 15 crore in the campaign, which includes TV, print and digital. Says Shayondeep Pal, ECD, Lowe Lintas Delhi, "The world today is bombarded with communication from e-commerce players. We thought being hyperlocal Zopper offered a great opportunity to put forth a counter point. The campaign idea was to bring the local store guy to the forefront and make him the face and the voice for Zopper, done in a mockumentary style."
Zopper is currently present in 22 cities and is processing 200-250 orders a day.
"The idea behind the campaign was building brand awareness and explain to consumers how Zopper is different from other e-commerce platforms. At the same time we wanted to connect with retailers and explain them the idea of Zopper and help them discover the online platform," says Singh.
Unlike its peers, Zopper aims to create a profitable business model without offering heavy discounts. "We were very clear from day one that we don't want to offer heavy discounts. The mandate is to create a 'profitable' e-commerce business. Surprisingly, of the 20,000 products listed on our platform, 46 per cent have prices lower than top three e-commerce players. It is not about discounting. Consumers should have the right product at the right price," says Singh.
Explaining the business model Singh says it is asset light as there is no inventory. There are three parts to the Zopper model. First is discovery. Customers use the Zopper platform to discover nearby retailers and browse their inventory for products and best prices. Second is fulfillment. Having identified the product and the retailer, the customer can choose to pay either online and order the product or go to the local retailer, see and order the product. The product is delivered to the customer home by the local retailer. There are also options for easy on-the-go financing for products and exchange old-for-new to facilitate ownership.
Third is ownership: Consumer durables are not bought every other day. People use their TV, fridge, washing machines, microwaves for three-five years during which they need warranty, repair, maintenance and so on. "The ownership aspect of our business is being designed around these facts. We want to have a long-term engagement with the customers and not just facilitate one-off purchases," says Singh.
Brand: Zopper
Budget: Rs 15 crore
Agency: Lowe Lintas Delhi