Classic Retail Imaging reinforces retail solutions biz with new Vasai plant
Vjmedia Works | June 03, 2014
The company's new factory houses 60,000 sq. ft of fabrication area and a 15,000 sq. ft printing setup.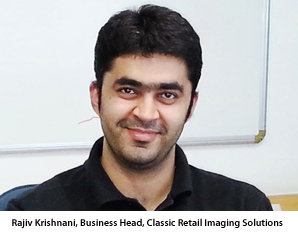 Mumbai-based Classic Retail Imaging Solutions, part of the Astarc Group of Companies, having recently opened a new production and printing facility in Vasai, aims to become a world leader in the retail solutions space, offering signages, POP/POS, furniture and fixtures (F&F), store roll-outs and digital solutions. These solutions are being offered under the brand name resync.
The company's new factory houses 60,000 sq. ft of fabrication area and a 15,000 sq. ft printing setup. The fabrication set-up has the best-in-store machines that include a paint booth, panel saw, router machines, thermoforming machine and printing facility with the best solvent, eco-solvent and UV printing machines like HP - TurboJet 8600. The factory has a printing capacity of 2,000 sq.ft/hr.
Talking about the new factory, Rajiv Krishnani, Business Head, Classic Retail Imaging Solutions, said, "Our capacity has increased multifold in all segments and our services shall only improve hereon." He pointed out that "apart from extending our product portfolio and services to our existing customers, we have plans to tap new clients."
Krishnani believes the company's growth opportunity rests on its capability to meet the "retail and branding requirements of clients across India". Classic Retail Imaging Solutions aims to leverage its "capability to handle all types of hard and soft materials to serve clients in all areas of retail". The company has offices in all the metros and deployed installation teams in over eight states to deliver standardized solutions across markets.
Classic Retail Imaging Solutions offers'Progressive Retail Solutions'. Krishnani explains that "we call ourselves providers of progressive retail solutions because right from the inception until execution, we cater to the needs of the clients. Not only that, depending on the client's need, we plan our product base that ranges from POP elements to digital solutions like touch-on glass."
He added: "Our major strength is our pan-India presence which results in ease of installation. We have site engineers located across the country so installation is not a difficult task for us. We believe in customer satisfaction and hence to enhance the same, we are developing a software that will update clients about their projects along with pictures of the same."
Referring to competition in the digital solutions space, Krishnani says, "Our product development team lead by Mr Amit Virdhe is working on innovation and technology-related products that can enhance the consumer experience and make the branding more interactive and fun. We are also working on foreign tie-ups for technological enhancements and you shall see 2-3 new products being launched in the next 2 quarters."
Commenting on the current and next destination markets, he said, "As a retail solution provider, we have expanded our footprints in various segments like automobile, retails chains, banking, electronics, oil & gas etc." The company aims to tap into opportunities in segments like hotel, construction and liquor industry.