Croma to open outlets in Calcutta and Jaipur
By VJ Media Bureau | Vjmedia Works | February 12, 2014
The brand announced the plans on the occasion of the Croma Consumer Choice Awards (CCCA) that it launched.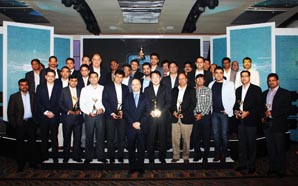 Croma has announced plans to open outlets in Calcutta and Jaipur while evaluating newer location for their expansion plans. The brand which recently launched its 100th store, also organized the Croma Consumer Choice Awards (CCCA), another feather in the cap in its seven year journey.
At the launch of Croma Consumer Choice Awards (CCCA) Ajit Joshi, MD & CEO said ,"This consumer initiative is a reiteration of our commitment to help customers choose the right products and to deliver the best in the world of technology. We have consistently been the No.1 in electronic retailing in India for the past six years and we intend to make our consumers happier on every occasion and every purchase they make at Croma. Croma's philosophy is "We help you buy" and we stand by it through such initiatives we take from time to time. We have enabled our customers to voice their opinions and this award is a true representation of their votes."
On Cromas expansion strategy for 2014-2015 Ajit further add ,"For 2014-15 we will add the cities of Calcutta and Jaipur to our portfolio. We are also evaluating going into Mangalore and Mysore. Recently, we opened the 100th store of Croma in India. We are not keen to go to every city in the country. Instead, we want to capture 20 per cent of the consumer durables and information technology (CDIT) in every city and thereafter increase our penetration. We have 20 plus stores across Mumbai and Delhi, 15 plus in Bangalore and 9 stores in Pune. Our strategy is to focus on specific cities and open multiple stores."
A first-of-its kind in the electronics category, this unique award was primarily consumer driven where their votes exclusively determined the winner. The Croma Consumer Choice Awards gave an opportunity to consumers to vote for their favourite electronics online atwww.cromaawards.com and across all Croma stores. A staggering 6.7 lakh votes were collected across the platforms.