Deepak Chhabra takes over as CEO of CROCS India
By Nabamita Chatterjee | Vjmedia Works | August 26, 2016
Prior to joining Crocs, Deepak had a long career stint of 9 years with Reliance Retail as the Vice President, during which time he was based out of Bengaluru & spearheaded retail operations & was instrumental in creating a chain of 250+ retail stores across 110 cities.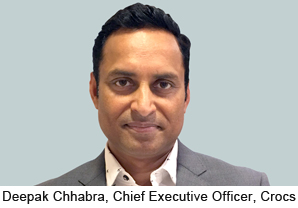 Crocs India announced that it has appointed Deepak Chhabra as the brand's new Chief Executive Officer. With over two decades of experience in Retail, Distribution, Buying, Merchandising & Brand Management, Deepak will be responsible for the growth and expansion of Crocs brand in his new role across India, Sri Lanka, Bangladesh & Maldives.
A veteran of the footwear and sportswear industry, Deepak has been associated with various roles with marquee brands like Reliance, Skechers, Asics, Nike, Tag Heuer and Sprandi, where he is best noted for his business channel development expertise, customer insights and team-building skills. Deepak is responsible to strategise & drive initiatives delivering superior brand and customer experiences through innovative business planning solutions.
On his new role with Crocs, Deepak, says, "I am very excited at the opportunity to work with the Crocs team and looking forward to develop the brand further. I hope to contribute to its growth story in this fast-changing consumer and retail environment."