Festive season proves a mixed bag for retailers
November 13, 2015
While malls are expecting double-digit growth with sales on the rise, some retail hotspots such as Delhi's Khan Market are seeing declines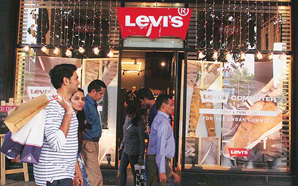 Kishore Biyani of the Future group projects a happy festival season for brick and mortar players. After a long time, Diwali sales have hit a record high, Biyani says. His own group is witnessing a 25-26 per cent like-to-like growth in pre-Diwali sales - in spite of the headline-grabbing Diwali sales across the online universe.
This is quite a shift from last year, when slow sales had cast a pall of gloom over traditional retail. E-commerce had unleashed its first edition of the big festival discount in 2014. The buzz created by Flipkart for its Big Billion Day sale, matched by competitors such as Amazon and Snapdeal, had captured the imagination of buyers like never before. Brick and mortar retailers could do little to stop the onslaught from e-tailers in an already slow economy.
At the top of the game
This time, when e-commerce players were preparing to make a success of the online sales, physical retailers too were strategising to find new ways to woo buyers, well ahead of the festival season. Now, most fashion and lifestyle retailers say they have had "strong double- digit sales growth."
According to Biyani, "The economy is doing good. Every category is doing well. Where is the impact of e-commerce?"
Others are rejoicing too. Govind Shrikhande, managing director of Shoppers Stop, says he is expecting high double-digit growth in Diwali sales.
"The impact (of heavy discounts by e-commerce portals) is lower than last year. Last year we were not expecting the impact. This year, there is not much impact," Shrikhande says.
Shoppers Stop posted like-to-like growth of 0.8 per cent in the third quarter of FY 2015 when Diwali sales are reflected in the numbers.
In fact, a senior executive of fashion brand Jack & Jones says e-commerce sites are selling previous season's merchandise, a reason why online sales may not have been a great hit this time.
Footfalls in malls have drastically increased, say others. "Things have been picking up as we are seeing a lot of redemption of our coupons and reward points our users accumulated over the last six months,'' says Ashwin Meshram, co-founder of ONE Rewardz, a mobile-based customer engagement solution provider that serves as an interactive, analytics driven, customisable customer loyalty programme for retailers and brands. This is the best period for brick-and- mortar brands, says Meshram.
However, high street shopping has been subdued to a large extent. "There is no enthusiasm surrounding the festive season, e-commerce marketplaces just like last time around have caused a serious dent to our business. We are seeing a decline of almost 50 per cent in footfall this festive season," says Sanjiv Mehra, president, Khan Market Traders Association. Khan Market in New Delhi is among the most expensive high street shopping destinations in India.
Connaught Place, another popular high street hub in New Delhi, has recorded rise in footfalls but sales have remained stagnant at last year's levels. "We are however hopeful that last minute festive shopping would pick up," says Atul Bhargava, president, New Delhi Traders Association.
Pinakiranjan Mishra, national leader (retail and consumer products), at consultancy EY India, says, "Online deals and discounts have come down compared to last year. It is a respite for offline retailers."
Experience counts
Many retailers feel they have benefited from the fact that customers want to "touch and feel" what they are buying during the festive season.
"Online retailers are incurring heavy losses and we believe things will settle down and sanity will prevail. Also online cannot provide you the touch and feel of what you are buying or even personal attention," says Subhash Chandra, managing director of Sangeetha Mobiles, a mobile phone chain.
Tata group's Croma too believes that shoppers look for special experience from stores every festive season.
"People who do not have stores have to pretend there is nothing more to shopping than closing the deal at the lowest possible price. However, if one just pauses for a moment and reflects how we as individuals behave as shoppers, one will realise that there is much more to the act of shopping than just haggling over prices," says Ritesh Ghosal, chief marketing officer, Infiniti Retail which runs Croma stores.
But, brick and mortar is taking tips from online. Retailers' association may have knocked the doors of the Competition Commission of India (CCI) last year to complain against the deep discounts offered by online players before Diwali, but this time brick and mortar chains are themselves focused on bigger price cuts. Festive sales matter because these make up for a good 20 per cent of the year's total sales.
For instance, Sangeetha Mobiles has offered to bear the entire interest cost of mobile phones that have been bought on installments. It has also come out with a scheme that protects customers from loss if the price of a phone falls within a month of its purchase. Also, Tata's Croma has launched a 5+5+5 scheme where shoppers get five per cent cash back on select debit and credit cards, five per cent off if they make a second purchase and another five per cent value back, which is the amount given back in the form of a gift card.
Confederation of All India Traders (CAIT), that has been seeking action against e-commerce players on several counts, including deep discounts and violation of foreign investment rules, also acknowledges the improvement in festival shopping this time round.
"The retail sector has picked up and high street stores have been doing quite well. Consumers have shown that for fashion apparel, jewellery, they prefer brick and mortar stores over e-commerce marketplaces," says Praveen Khandelwal, secretary general, CAIT.
Estimates show that there's been a 10-15 per cent rise in festival sales in bigger cities and close to 30 per cent in Tier-II and Tier-III towns, according to Khandelwal.