Flipkart builds its top management differently
Vjmedia Works | December 26, 2014
Has seniors in their 20s and 50s, chosen for willingness to both learn and unlearn swiftly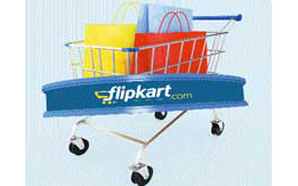 Flipkart, the country's e-commerce poster boy, is trying to ensure the leaders it inducted in 2014 are woven well into its organisational fabric. Needed, as it has plans, it says, to bring in many more top-level executives, to manage its future growth.
From ensuring the recruits are ready to unlearn, to helping them understand and adjust well in Flipkart's 'start-up environment', it has put in place processes to ensure its structure does not crack amid the ongoing evolution.
Among other things, the company prescribes books for the incoming leaders, makes them shadow the founders, gives them a buddy to reach out to and walks them through all its processes. The idea is that each outsider who comes in at leadership level gets a clear idea into the functioning.
"We have hired (both) young senior leaders and experienced senior leaders and we have no qualms about that," said Mekin Maheshwari, 34, chief people officer. "We have a senior vice-president who is 28 years old and we one who is close to 50. I think the one thing that companies like ours can change in the Indian mindset is the need to be meritocracy-driven, rather than tenure-driven."
As a first step, Flipkart gives a list of books to every new senior-level recruit, which he or she must read before coming on board. These range in subjects such as management, thinking out-of-the-box or consumer internet, depending on the role the entrant would be taking up.
During the first few days, every top-level recruit is made to shadow co-founders Sachin Bansal (chief executive officer) and Binny Bansal (chief operations officer) for a couple of days, to closely understand their vision and working.
To further help the new leader understand its functioning and ethics, a 'buddy' is assigned. This could be an existing employee of the same level or someone senior.
The company also holds visits to its warehouses, to understand the entire supply-chain mechanism. This warehouse visit applies to most levels, not only the seniors — most are taken for a day's visit.
The top management of Flipkart has become a curious mix of young executives, with the company in its initial years and subsequently elevated to senior vice-president and vice-president, and seasoned professionals who have been brought on board from outside.
A reflection of this curious mix is that while the chief executive officer of Flipkart is all of 33 years in age, the company in 2014 hired Tata Communications' former finance chief, Sanjay Baweja, age 54, to be its new finance head.
Additionally, the company brought in several division heads from allied sectors, such as Rishi Vasudev with 15 years of experience and ex-India head for Calvin Klein. A vice-president, he reports to Mukesh Bansal, the co-founder of Myntra, which was acquired by Flipkart earlier this year. A successful entrepreneur, Mukesh Bansal is now among the decision makers at Flipkart, heading the marketing function.
"It (absorbing external leaders) is all about the attitude on both sides of the table — the employer and the employee. Both need to understand the value the other one brings and respect each other," said C K Guruprasad, principal at executive search firm Heidrick & Struggles. Involved with senior-level hiring for several start-ups, he says it is essential for a young team to get seasoned professionals on board but it is a tightrope walk to ensure it works.
Flipkart has also inculcated an unconventional mindset for recruitment. A lot of stress is given on a candidate's ability to cope with change and unlearn several things he or she might have learnt in previous jobs.
With no proven successful models in Indian e-commerce that Flipkart could pick from, Maheshwari says the best fit for leadership roles at the company are not those who have all the answers but those ready to swiftly learn and unlearn.
"The capability to learn and unlearn is very important for leaders joining us, as we ourselves are at a point where we don't know all the answers. We will make mistakes, we will learn. So, we want people who are a fit in that DNA," he said.
Advertisement