Future Group, Amazon India announce strategic e-commerce alliance
By Christopher Brace | Vjmedia Works | October 14, 2014
In an emerging trend, traditional retail majors change track to partner e-commerce entities, for growth as much as survival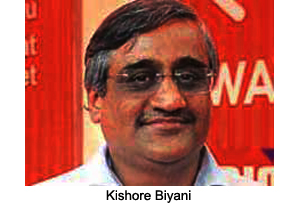 From being dismissive about the potential of e-commerce in India to joining hands with the sector, leading 'brick and mortar' retailing entities seem to have had a change of thinking on the former.
Kishore Biyani's Future Group has made a tie-up with Amazon to sell its private labels in the fashion category. Last month, Tata Group's Croma entered into an alliance with Snapdeal.
The tie-up of Amazon and Future comes right after Jeff Bezos, founder-head of the former, visited the country and met Biyani. The partnership will be extended to other categories over time. Future will use the Amazon platform to sell its private labels such as Lee Cooper, Converse, Indigo Nation, Scullers and Jealous21, among others. The company has a portfolio of about 40 brands.
AMAZING FUTURE?
Fashion and food will be the first of Future labels to be sold through Amazon
Future Group recently announced a tie-up with SAP company'hybris' for its omni-channel strategy that allows the group to converge its digital and physical channels
Omni-channel strategy is set to go live after Diwali and is a retail strategy or extension of its physical stores
The strategy will work simultaneously along with retailing on e-commerce partner
As part of the omni-strategy, group's electronics format, Ezone, is expected to go online first, followed by food chain Foodhall and hypermarket chain Big Bazaar
Amazon India's vice-president and country manager, Amit Agarwal, said the combination was a "win-win for all". Biyani said it would help the retailer promote its own private labels.
Last week, Biyani had criticised Flipkart and other e-commerce companies for the deep discounts offered in its Diwali-eve sales. Amazon did not follow the flash sale/discount policy of Flipkart and Snapdeal and went easy when it came to offering discounts during its Diwali sale.
The partnership between Snapdeal and Croma or Amazon and Future is not one between two retailers but of vendor and technology platforms offering technology and logistics services. This will help in the growth of new brands and private labels, said Arvind Singhal, chairman of Technopak, the management consultants.
However, even after entering into the Amazon partnership, Biyani was sceptical about the euphoria around e-commerce. "The mindspace they (e-commerce players) have occupied is far larger than their share of the market," he'd said in a recent interaction with Business Standard.
Experts say the association of Future with Amazon is important. It establishes that leading brick and mortar retailers cannot be dismissive about e-commerce players, which have become a brand in the online space. Despite their own omni-channel strategy, an association with e-commerce players has become important because of the latter's logistics expertise and consumer reliance on the brand, said Singhal.
It is also a crucial step for Amazon, to grow into the much-sought fashion category. It currently lags Flipkart and Snapdeal in the assortment of products, number of sellers and brands, etc. Fashion is the focus category for most e-commerce companies because of its high margins and growing demand. Amazon, unlike Flipkart, Myntra or Jabong, does not have its own private labels in India.
The next category for partnership could be food. Amazon recently also entered the non-perishable foods category, offering ready-to-eats and like products online. Future has similar plans to expand into food brands. It is set to launch Sunkist, a beverage range, beside three new foods brands —Karmiq, So Fresh and Veg Affair.
"Each of these will have its own range. Veg Affair will be ready-to-eat frozen vegetables, including peas and carrots. Karmiq is for canola oil and other such products, as well as dry fruits," Biyani recently told Business Standard.
Future operates some of India's most popular retail chains, including Central, Big Bazaar, Foodhall, Planet Sports, Brand Factory, Home Town and eZone. The group operates around 17 million sq ft of retail space in 98 cities and towns, and 40 rural locations.
Its retail formats attract about 300 million customers annually and connect them to around 30,000 small, medium and large enterprises. Amazon started its e-commerce operations in 2013 and is a leading contender for the top position in India's growing e-commerce market.