GCPL launches eco-friendly mosquito repellant DND Spira Coil, targets over 2,00,000 kirana stores
By Chanda Kumar | Vjmedia Works | April 10, 2017
Global Consumer Products launches the country's first ever green and eco-friendly mosquito coil'DND Spira Coils', which is 99.5% natural under the flagship brand DND - Do Not Disturb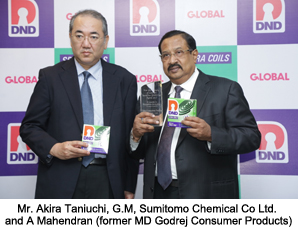 Bangalore based FMCG company Global Consumer Products Pvt Ltd (GCPL), started by A Mahendran (former MD Godrej Consumer Products) and forayed in the market with LuvIt range of chocolates in 2014, has now launched the country's first ever green and eco-friendly mosquito coil 'DND Spira Coils), which is 99.5% natural under the flagship brand DND - Do Not Disturb.

Announcing the launch, A. Mahendran, MD & CEO of Global Consumer Products Ltd said, "We are targeting the 'urban poor' initially that constitute 40% of the urban population, who don't have access to quality and economic mosquito repellant products. We shall then look at strengthening our presence in rural areas. Protect and Prevent is the philosophy of DND products."

Addressing the base of the pyramid, the products come at competitive price points (almost 50% lesser than competitors) and strengthen its presence in the GT market by being available in over 2,00,000 kirana stores initially. Meanwhile the brand looks at strengthening its other 8 SKUs including liquid vaporiser, nanosol and diffusers variants in modern trade.

DND Spira Coils uses patented Japenese technology using the Sumione Active molecule, which is light and evaporates much faster thus creating an affective 360 degree preventive shield.