Goodricke Group acquires Godfrey Phillip's tea business for Rs 20 cr
By Avishek Rakshit |Kolkata| Business Standards | October 18, 2017
Acquirer aims to grow its tea retailing business from 9 mn kg currently to 14 mn kg, expand its portfolio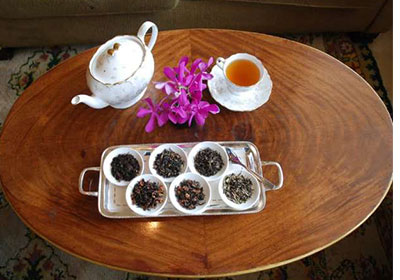 Aiming to grow its tea retailing business from the current nine million kg (mkg) to 14 mkg in the near term, as well as expand its portfolio, Goodricke Group has entered into an agreement to acquire the brands of Godfrey Phillips India (GPI) for a consideration of Rs 20 crore.
The agreement provides Goodricke control of the Tea City, SC Gold, Symphony, Samovar, SC Premium, Super Cup, Rangoli and Utsav brands hitherto owned by GPI and will provide Goodricke access to over 400 distributors across Jammu & Kashmir, Punjab, Uttar Pradesh , Bihar, Rajasthan and Himachal Pradesh.
The deal gives the rights to Goodricke Group on the trademarks, titles and brands associated with GPI's tea business, but doesn't include transfer of any physical assets.

Vikram Singh Gulia, vice president at the Goodricke Group told Business Standard that the company has targeted to grow its packaged tea business from the current Rs 175 crore to Rs 275 crore during 2018-19 and that brand acquisition was the way forward.
"If you see, we have acquired brands which are present in territories where we are not. Although servicing these brands (formerly) hasn't been very good in the past, there is no negativity about these brands. Given our focus on tea, I believe we will be able to grow these brands which we have just acquired", he told this newspaper.
As per Gulia, the brand recall, pricing and positioning of these brands will help Goodricke gain an immediate revenue surge and he expects to close the current fiscal year at revenues of Rs 210-215 crore from the packaged tea business.
In the last fiscal year, GPI posted a turnover of Rs 105 crore from its tea business, which accounted for less than one per cent of the company's consolidated turnover.
The official stated that Goodricke will continue to keep these brands instead of amalgamating them with its own existing brands and the blends in these will be mostly serviced by the produce from its own gardens in Dooars and Assam.
The Goodricke Group, which is one of the largest Darjeeling tea producers and directly owns 17 tea gardens in West Bengal and Assam, has been increasing its focus on the packaged tea business to shield itself from the vagaries of nature and other risks associated with agriculture.
Recently, owing to the Gorkhaland agitation which resulted in an over 100-day garden closure, the company had to take a hit of an estimated Rs 20 crore.
The Goodricke Group's packaged tea business accounts for around 26 per cent of the company's annual turnover at Rs. 680 crore and Gulia plans to take this contribution up to around 40 per cent in the coming few years.
However, it will not imply the group focussing more on the retail business and loosening its grip on tea production. In fact, the company is on the lookout to acquire two gardens in Assam to strengthen its production portfolio.