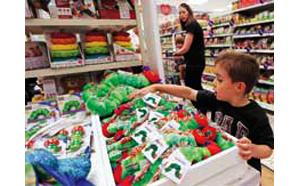 Though the Bharatiya Janata Party (BJP)'s election manifesto has categorically opposed foreign direct investment (FDI) in multi-brand retailing to "protect the interests of small and medium traders," the new government is unlikely to reverse the existing policy.
In a recent interview, Narendra Modi, set to take charge as prime minister in a few days, had said his government wouldn't roll back any policy in the sector.
The policy could be modified. Sources said there might be a move to lower the FDI cap in multi-brand retail from 51 per cent to 49 per cent over a period, perhaps to make the entry of global companies tougher. It was suggested sourcing norms in the retail sector might be gradually eased.
Also, indications are FDI in e-commerce might be a reality soon. At a small and medium traders' convention in Delhi this year, Modi had supported FDI in e-commerce. Last week, the Department of Industrial Policy and Promotion had held a meeting with stakeholders to discuss FDI in e-commerce. FDI isn't allowed in e-commerce, though there's no norm blocking foreign investment in online companies following the marketplace model.
"The interests of the new government could be served by not taking any further steps on the policy. I don't think this will be the immediate priority area. But at some point, it will revise the policy without scrapping," said Arvind Singhal, chairman and managing director, Technopak.
American retail chain Walmart, with 20 cash-and-carry stores in India, has said it will "engage and work" with the government. The UK's Tesco is the only foreign multi-brand company to have made an application since the sector was opened to FDI in September 2012. It has proposed investment in Maharashtra and Karnataka, two Congress-ruled states backing FDI in retail.
The BJP manifesto promises to modernise small and medium traders. A stronger credit system, establishing self-help groups under the National Rural Internet and Technology Mission, simplification of the licensing system and equipping small traders and vendors with latest techniques and methods are other key retail sector-related points mentioned.