Groceries and entertainment: How Amazon plans on scoring over Flipkart in 2017
December 20, 2016
E-tailer zeroes in on groceries and entertainment for this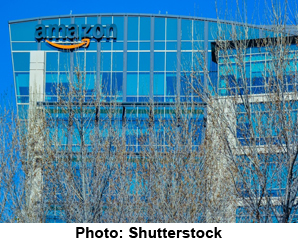 Groceries and entertainment might be Amazon's key to making e-commerce a habit among its customers in India and score over local rival Flipkart.

For Amazon, 2017 in India would be all about making e-commerce a habit among its customers. For that, it would be concentrating on daily groceries via AmazonNow and online video-streaming service Amazon Prime Video.

According to sources close to the company, Amazon would increase focus on gaining subscribers for its loyalty programme, Prime, and sell them high-end electronics to daily need groceries such as milk and bread to using the platform for entertainment needs.

At present, according to sectoral sources, the company has as many as 500,000 members, which it plans to double next year. In the US, nearly half of all Prime members spend nearly double ($1,200) than regular users to buy goods on its platform.

These two services would help it gain repeat customers, which has been part of Amazon's plan all along, say experts.

"Grocery at $400 billion accounts for the largest chunk of consumer spending, which stands at $400 billion. Amazon knows there is saturation in categories such as mobile phones, fashion and consumer durables and grocery has a lot of potential. If customers associate Amazon with groceries as well as entertainment, then they would have a strong customer base," said Arvind Singhal, chairman, Technopak Advisors.

Amazon has in the past six months worked on getting a host of partners both in the retail sector and in the Indian film and television industry to launch these two services. The AmazonNow app, available for customers in Delhi, Bengaluru and Mumbai, has a host of hyperlocal e-grocers and medium-to-small grocers, as well as major retail players such as Hypercity, Spar Modern Bazaar, Easy Day, BigBazaar and SRS, among others.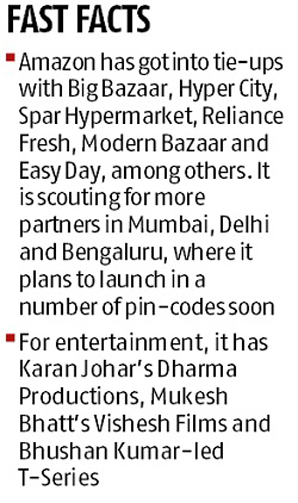 It has around 5,000 everyday essentials, including fresh fruits, vegetables as well as frozen food items, and it offers to get the products delivered to customers' doorstep within two hours.

"AmazonNow has witnessed an amazing uptake by customers in Bengaluru. The positive response prompted us to expand to Delhi and Mumbai, to be able to service our customers in these cities, too, and enable them to shop for their everyday essentials or over 5,000 products from the system of their local stores and get these delivered within two-to-four hours," said Saurabh Srivastava, category leader, Amazon India.

The company would be slowly expanding to other cities as it is not in a hurry to expand rapidly.

Amazon's big-bang announcement about its Prime Video launch in India shook up the sector not only because of the highly competitive pricing, but also because of its proposed content offering. It announced a total of 18 shows, nine of which are already in production, in collaboration with content makers such as The AIB, Phantom Films and Excel Entertainment.

Amazon's content plans were in motion well before the launch; Amazon Prime Video will likely depend heavily on India's love for cinema.

Experts say the content strategy employed by Amazon could work, because the pricing they have announced is competitive.

"While the recent Bollywood titles are an attraction, what will ultimately work in its (Amazon's) favour is the pricing. So, the question to ask is: is this content good enough to retain viewers when they ultimately increase the price?" says an executive from the industry.