Hafele - Unlocking inspirations in Bangalore
By Retail4Growth Bureau | October 29, 2018
Hafele moves to its new, state-of-the-art design showroom in the heart of Bangalore. The spacious, 8,000 square feet showroom unites globally acclaimed interior trends with innovative functionality through interactive and functional display settings.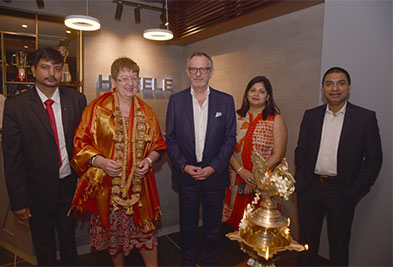 Häfele, the international leader in Interior Functionality, moves to its new, state-of-the-art design showroom in the heart of Bangalore. The spacious, 8,000 square feet showroom unites globally acclaimed interior trends with innovative functionality through interactive and functional display settings; bringing every imaginable design to reality.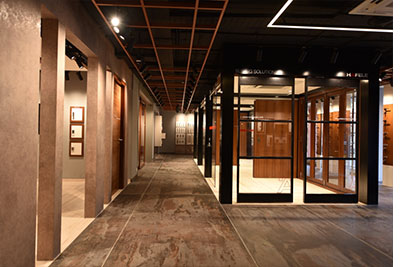 Margit Hellwig-Bötte (German Consul General, Bangalore) inaugurated the showroom together with Jürgen Wolf (Managing Director, Hafele South Asia). At the onset of the launch, Mr. Wolf says, "Bangalore is one of our biggest markets in India and we have been successfully catering to our customers through our earlier showroom and office facility.However, with the growing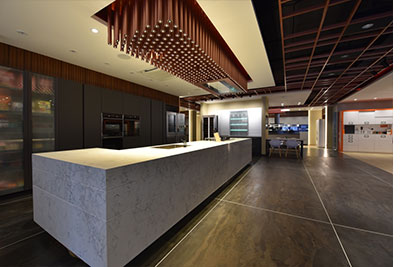 innovations in our range and the need to showcase them for our customers, we felt the need to move to a bigger premise."
He further elaborates on the Häfele Showroom Concept "Stylish Hardware Fittings that give you the best functionality for your individual application in your business or residence are hard to select from a catalogue; neither can they be imagined or assumed. Thisnew Häfele Design Showroom has been designed to unlockthe ideal designinspirations through live displays that allow you to experience the functionality of our products and solutions. Moreover, with increasing real estate prices and diminishing living spaces, the trend for innovative and space-saving interior solutions has gained popularity among city-dwellers. Häfele has closely observed this trend and put-together a range of the most space-optimizing solutions with a continuing promise of 'more life per meter square'. You will experience this first-hand when you see our intelligent showroom displays that efficiently manage space and functionality without compromising on comfort or design."
Design concepts and ideas can be better understood when they are experienced in LIVE set-ups. This is the ideology that backs the company's initiative of establishing state-of-the-art design showrooms; where customers can walk in and experience world-class functionality, seamlessly rooted in latest global design trends. Quite inherent to what they do, Häfele is a strong believer of the mantra that 'Form follows Function' and the trick is to combine Functionality with Aesthetics and make them work in almost unperceivable unison. This is explicitly displayed in all Häfele Design Showrooms worldwide. To this experience of functionality, Häfele adds a competent dimension of designing servicesfor kitchens and wardrobes ably extended to customers by an expert team of Designers who exclusively operate from these Design Showrooms.
The typical layout of any of Häfele's Design Showrooms includes real-time displays of the company's many product functionalities including a LIVE kitchen which is equipped with storage areas, appliances and other utilities.
Following the trend of LIVE displays, Häfele introduces. for the very first time, a dedicated display room for Project Customers at its newest showroom in South Bombay. The Project Room Area simulates Häfele's 360 degree Project Services proposition that promises a spectrum of project solutions ably backed by technical support and advisory services offered for the entire duration of a project. In this room, you will experience live displays of door hardware catering to different door applications like fire-rated doors, glass doors, residential doors and hotel room doors. These displays are aptly complemented with door hardware products like panic exit devices, patch fittings and one of the widest and technologically superior range of digital door solutions.
With the launch of this exclusive Design Showroom, Häfele introduces eight of its latest innovations in interior solutions, catering to every application of a given interior space. The Elements by ASKO, Häfele Connect, Intelligent Toilets, Walk-in Wardrobes, Blum Thin fronts, Small Appliances, Open Shelving Solutions and Sliding Doors.
Similar News
The Nagold Gallery showcases its extensive range of built-in home appliances that seamlessly integrate international functionality and trends that specifcally cater to the distinctive Indian Lifestyle.
Executed at Globus stores across 39 locations, the LFS chain brings the vibe of a holiday with the use of static and kinetic spin wheels, while rest of the window features minimum use of displayed merchandise with coherent colour palette. Executed by Ananta Infinity Solutions, the window uses lemon yellow as its principal colour.
With expertise from creating bespoke brand experiences and crafting architectural surfaces to props and packaging, LOCO Design is now looking at creating a niche for itself in retail design and VM segment too. Parminder Pal Singh, Founder, LOCO Design, tells us how retail strategy projects allow them to dovetail their branding experience with their manufacturing expertise.
Acumen offers concept design solutions that are known for its aesthetic value and functionality, understanding the nature and behaviour of consumers across geographic boundaries. It is associated with some of the largest companies in the retail industry. Point-Of-Purchase catches up with Dibash Moni Das Director, Acumen Marketing Solutions Pvt Ltd to find out more.
Designer People, the ace packaging design company has recently completed many innovative projects in the FMCG segment. Megha Malik, Co-founder and Creative Director, talks about various nuances of packaging design which also plays a great role in planning the in-store marketing solutions of any brand.