He Said She Said -- A rendezvous with shots
By Elke Moebius | Vjmedia Works | May 19, 2014
Conceptualised to be a fun, young and vibrant hangout space, the new hot spot in Mumbai proves that innovation can go many a mile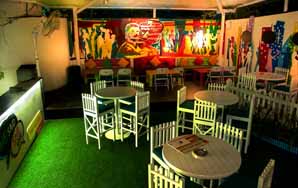 Mumbai is a place which has a defined culture of clubs, lounges and bars. There is no category of hangout places which would be missing in the fast-paced city of Mumbai. In a network as such, it is a nerve-racking business to introduce a new concept which would set it apart from the rest. He Said She Said is a new hot spot of Mumbai and within a span of three months has proved that innovation can go many a mile.
He Said She Said was conceptualised to be a fun, young and vibrant hangout space. What's new about that; one may ask. "He Said She Said is not a typical "Bar". It's a place where people can come relax and unwind without worrying about burning a hole in their pockets. The idea was that everyone loves to have shots but—let's be honest—alcohol tastes pathetic; it is an acquired taste. So we thought why not shots that taste awesome. And the fact that you are getting high is an add-on. To be honest, this was an inspiration that came when I was travelling via New York and saw a place offering "different" shots and I instantly thought we should have something like this in India," says Harshvardhan Samor, one of the owners of the place.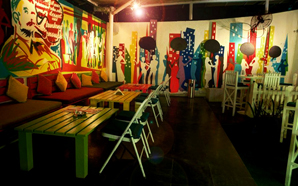 The name He Said She Said symbolises conversations people have at their regular hangout spot. It was conceptualised to attract people with all kind of agendas for their time to be well-spent. They can have different shots with friends amidst great music, they can dance their feet out to the beats of loud music or have quiet conversations at the fine dining where music is no hindrance. To accommodate all these must-haves, a larger space was required. Located in Andheri, with its area spread over 13,500 sq. ft., He Said She Said couldn't ask for more. It usually draws people who want to relax after a hard day's work. Since it is located in a busy office area, it gets the right clientele it had aimed for. The only brief given to the architect Vishal Gupta was that it shouldn't look like a typical bar.
Following the brief, the space communicates in colours establishing itself as a day space as well as a night party place. Its vibrancy oozes form the colour combinations and the eye-catching graphics. He Said She Said had already made its mark in Delhi and then it was time for it spread its charm over Mumbai. It addressed the Mumbai crowd differently than Delhi but the essence was sustained. "The main challenge in completing the site was the size and levels and maintaining their co-ordination. Different levels of He Said She Said are made for different purposes but have to follow the same brand philosophy," says Vishal Gupta.
He Said She Said announces its presence with its backlit branding flashing from the top. The front wall is treated with sketches of'He' and'She' having shots. This introduces the concept of the place and we enter through the tiny red gate. The entrance has a very simple language; nothing extravagant about it. Its simplicity portrays the idea that it wants people to come there on a regular basis and offers a welcoming feel.
The interior vocabulary materialises with the use of mixed media for all its elements. The walls express most of the character for the space. They have been treated in layers and a 3D effect is brought out. The first layer is of paint through which colourful graphics are expressed. They are embossed with character cutouts done in MDF and the final layer is the text crafted out of acrylic. The back wall at the bar counter sheds light on a refined looking graphic of bottles-obviously done up in various colours. The front of the bar counter as well has abstract looking bottle graphics in various colours and subtly lit to lay emphasis on it. These graphics clearly define what the space is meant for.
The lighting concept for the entire space is spotlighting. They focus on the elements meant to interest people and render the space in dim tones. Speech bubbles are installed at various places for people to come and write down anything random that crosses their head. A red telephone booth branded with the He Said She Said logo is an element of interest and adds to the idea of'something different.' Lot of people come and take pictures with it.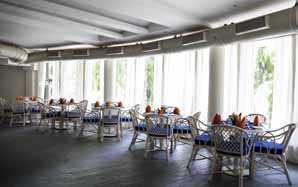 The flooring is a fake garden floor created to underline the idea of an outdoor space. A waterfall alongside gives the feel of an actual garden-like space. The soft noise of the water from the waterfall gives a soothing tone to the space. The colourful pillows, simple painted wooden furniture, yellow window frames are all elements which accentuate the fun component of the space. The different types of seating in the same space caters to multiple type of activities. He Said She Said is not an interactive space; it is a space which generates interactions.
The first floor has He Said She Said's fine dining zone. It is done up with influences from Greek architecture with its curved forms and white and blue interiors. The choice of this particular style for interiors was made on the basis of its purpose. It had to be a space which would unleash a soothing atmosphere. The terrace was just a casual space for people to come and relax and spend long hours. Hanging plants and the natural breeze are the only elements required to make the space what it needs to be.