HUL profit up 12%
By Dinesh Jain | October 27, 2016
A decline of 1% in volume growth was the lowest in seven years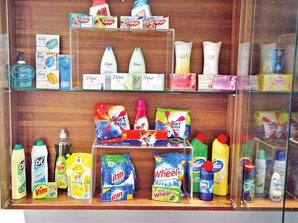 Aided by an exceptional gain of Rs 18.6 crore, the country's largest consumer goods company Hindustan Unilever reported a nearly 12 per cent year-on-year increase in net profit to touch Rs 1095.6 crore for the quarter ended September. Net profit in the corresponding period last year was Rs 982.2 crore.

While net profit this quarter was marginally higher than the Bloomberg consensus estimate of Rs 1,054 crore revenue growth remained muted.

For the quarter, this was up 1.34 per cent only year-on-year, touching Rs 7,697.6 crore versus Rs 7,595.7 crore last year. This was way below the Bloomberg consensus estimate of Rs 8,001.3 crore for the quarter under review.

Worse was volume growth, which declined one per cent for the quarter under review, its lowest in seven years. Price-led growth was three per cent.

Chief Financial Officer P B Balaji said the company's volume decline was an indication of a rebalancing of price and volume-led growth.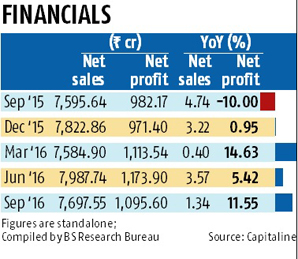 "The last time we saw a decline in volume growth was in the March 2009 quarter, when it was at minus four per cent. At that time there was a wild swing from deflation to inflation, which resulted in us having to take up prices and therefore a volume drop. This time, too, we had to respond to the inflationary cycle visible in crude and palm oil prices, which saw volume growth overall and specifically in soaps get affected," he said.

HUL is the largest soap maker in India. Soaps and detergents alone account for half its revenue, according to analyst estimates.

Ebitda (earnings before interest, tax, depreciation and amortisation) increased 5.1 per cent year-on-year to Rs 1,404.6 crore while margins expanded around 60 basis points to touch 18.2 per cent due to a fall in advertising & sales promotion expenditure (down 7.6 per cent year-on-year).

Abneesh Roy, senior vice-president, research, institutional equities, HUL maintained a hold rating on the stock.

"Revenue growth was slightly lower than our estimates. Ebitda and PAT growth, however, came in line. Management commentary of the worst behind the company gives comfort. Brands in the premium segment continue to do well," Roy said.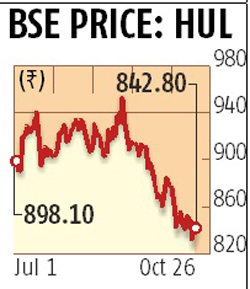 Besides soaps, where price hikes were "steep," Balaji said the company had also effected "marginal" price hikes in laundry (detergents). Neither he nor HUL's managing director Sanjiv Mehta specified how much these price hikes were though.

Personal care, which according to the new IND-AS classification includes soaps, oral care, skin care and hair care registered a 0.3 per cent de-growth year-on-year in terms of revenue, touching Rs 4,028 crore Rs 4,041.3 crore last year. Earnings before interest and tax (Ebit) margins, on the other hand, expanded 90 basis points to 22.9 per cent for the quarter.

The home care business (which includes laundry, fabric wash, household care and water) grew 3.2 per cent in terms of revenue to touch Rs 2,777 crore versus Rs 2,690.8 crore a year ago. Its margin jumped 170 basis points to touch 10.1 per cent.

Refreshments (beverages) grew 8.3 per cent to touch Rs 1,169.2 crore in terms of revenue (versus Rs 1,079 crore last year) and 114 basis points in terms of Ebit margins to touch 14.8 per cent for the quarter.

Foods grew 2.44 per cent only to touch Rs 277.9 crore in terms of revenue versus Rs 271.2 crore last year. While Ebit margins declined 110 basis points to touch 4.9 per cent for the quarter under review.

HUL's scrip rose briefly in pre-lunch trading on Wednesday after opening weak at Rs 831 per unit on the BSE.

At 1.10 pm, the stock was hovering at Rs 839 before closing the day at Rs 842.80 per unit, up 1.3 per cent. Analysts said the Street had factored in the performance after parent Unilever had indicated earlier that the Indian market had softened.