Interest charges swallow Future Retail's profit
By Chaitanya Muppala | Vjmedia Works | February 21, 2014
Analysts disappointed, believe debt load will rise; however, company insiders disagree, cite reasons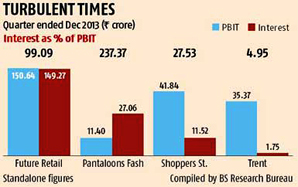 Kishore Biyani's flagship company, Future Retail, has paid 99.09 per cent of its profit before interest and taxes (PBIT) as interest on its loans in the quarter ending December 2013. Simply, whatever it earned during the quarter went for interest payment.
The company said Future Retail paid an interest of Rs 149.3 crore on PBIT of Rs 150.6 in the quarter ending December 31.
Among other listed retailers, 27.53 per cent of Raheja-owned Shoppers Stop's PBIT and 4.95 per cent of Tata-owned Trent's PBIT went on interest charges. In the case of Pantaloons Fashion, 237 per cent of PBIT went on interest charges.
In the unlisted space, Aditya Birla Retail paid interest charges of Rs 273.8 crore on a negative PBIT of Rs 237 crore in FY13. Spencer's Retail paid interest charges of Rs 43.5 crore on a negative PBIT of Rs 154.6 crore in the last financial year
In the December quarter of 2013, Future Retail had a total debt of Rs 5,065 crore. A mail sent to the Future Group did not elicit any response.
On same-store sales (SSS) growth, Future Retail faced issues in the December quarter. The company posted SSS growth of 3.3 per cent in the value segment (Big Bazaar and others), the lowest in a year. In the home segment, the company posted SSS growth of two per cent, lowest after two quarters. SSS growth is sales growth from stores in the business for at least a year.
Abneesh Roy, associate director, institutional equities research, at Edelweiss Securities, said the higher interest ratio was also because the company was yet to receive some of its money from divestments in the insurance business and its expansion of stores. "We're disappointed that debt levels have not come down and interest charges have gone up on a quarterly basis," he said.
Future opened four Big Bazaar stores and six Ezone stores, among others, during the quarter.
Abhishek Ranganathan, vice-president at Phillip Capital, believes the debt levels will go up, given the issues the company faces on cash flows. "For any retail company, free cash flow is not easy, given the low margins and new addition of stores," said Roy of Edelweiss.
However, sources in the company are confident the debt levels and interest ratio will come down. "FRL's debt to Ebitda (earnings before interest, taxes, depreciation and amortisation) ratios will be less than three in less than a year," said a source, who did not want to be identified.
The source said the company's profitability would improve due to cost rationalisation and divestment opportunities in Capital First (Future Capital earlier) and Future Lifestyle Fashions, which was demerged from Future Retail and Future Ventures.
On the positive side, the company's Ebitda margins increased 95 basis points to 9.8 per cent, crossing analyst expectations, due to higher contribution from the fashion segment and cost rationalisation during the December quarter, Edelweiss' Roy said in a recent report.
"This led to positive PBT (post three quarters) despite sustained high interest cost (99 per cent of Ebit)," Roy said. The company closed 17 Food Bazaar stores and and five home stores during the past year. Burdened with debt of a little over Rs 7,500 crore in 2011, Biyani had sold majority stakes in his non-banking finance company, Future Capital, department store chain Pantaloons, his insurance ventures and, more recently, his investments in fashion brands BIBA and AND, to deleverage.