KORUM Mall bags 2 awards for its 'Summer Champs 2017' campaign
By Nabamita Chatterjee | November 30, 2017
Over the last 8 years, the mall has won 54 international, national and regional awards and accolades for its inspiring marketing promotions, campaigns, architecture, operation, safety standards for customer and so on.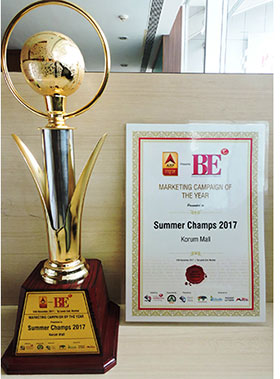 KORUM, Thane's premium shopping mall, has been awarded winner for its 'Summer Champs 2017' campaign in the categories "Best Innovation in Brand Activation/ Internal events" by The Activation Venues Forum (TAVF) 2017 held at VEDA, Bijwasan, New Delhi on 8th November, 2017 and the "Marketing Campaign of the Year" award by the ABP News Brand Excellence Awards 2017 held at Taj Lands, Bandra on 24th November, 2017.
The mall was adorned with a giant-sized spaceship (35x35 feet). The spaceship was built in a manner so as to give kids a sense of being in outer space and help them learn interesting facts about the solar system, planets, stars, galaxies, and meteorites among other things. As part of the 7th edition of KORUM Summer Champs, a 45-day long edutainment activity was planned focusing on engaging kids productively during the summer vacation. The kids were further tested on various parameters like talent, intelligence, strength, art, and agility; based on which two lucky champs were entitled to win a fully paid trip to Science Centre, Singapore.
Commenting on this achievement, a spokesperson from KORUM Mall said, "We feel privileged to receive two consecutive awards for our campaign 'Summer Champs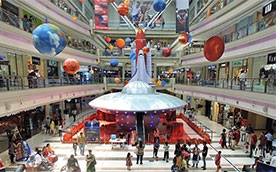 2017' and this truly stands as a great testament to the customer service and engagements that we strive to give our shoppers including kids and families when they pay visit to our Mall. At KORUM, we aim to stay connected with our shoppers on an emotional level by undertaking experiential shopping initiatives, events and activation-based campaigns.