'Myntra aims at $1-bn GMV next yr, to turn profitable'
By Avishek Rakshit | December 08, 2015
May look to replicate the parent's light web format which it re-introduced in November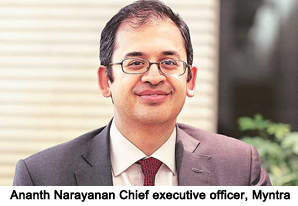 Myntra, the fashion e-commerce portal of Flipkart, expects to earn profits by 2016, with a gross merchandise value of $1 billion (Rs 6,500 crore), double the sales it expects this year.
Gross merchandise value (GMV) is the total value of sales on the platform. Myntra, now owned by Flipkart, is pushing more users to adopt its smartphone app. It might, it says, replicate the parent's light web format which the latter re-introduced in November.
"By investing in differentiating experience, we will become a profitable business at scale. Currently, we are operating at $500 million annualised GMV and we plan to cross $1 billion by 2016 in a profitable manner," said Ananth Narayanan, chief executive of Myntra, on Monday. This year's $500 mn GMV would be 66 per cent growth over last year.
Myntra, if it turns profitable, will be the first large Indian e-commerce company to do so and could help Flipkart offset some of its losses. Flipkart acquired Myntra in May 2014 for Rs 1,200 crore and is bleeding in the face of growing competition from global rival Amazon and local rivals Snapdeal and Shopclues. Flipkart reported Rs 1,933 crore combined loss in two firms, Flipkart India and Flipkart Internet, on revenue of Rs 10,390 crore during 2014-15, according to filings with the registrar of companies.
"Myntra is now a true part of Flipkart. That creates an advantage. We have built the company in such a way that it is benefiting from the best of both. Myntra is tapping into many of the resources of Flipkart, such as data on users and technical innovations," Sachin Bansal, co-founder of Flipkart said at the brand summit of Myntra, an event to showcase brands on the fashion commerce platform.
Narayanan, who joined Myntra in October from McKinsey, said they had 7.6 million monthly active users on its smartphone app. A little over 80 per cent are repeat customers, who buy fashion clothes and accessories of about 1,700 brands on its platform.
"We haven't dropped our app-only strategy. It (the website that was reintroduced in November) has only added a social sharing feature. However, transaction can happen only through the app," he said. "The mobile website is only to enable sharing and drive app downloads."
Last week, Naspers, an investor at Flipkart, backed the latter's app-focused strategy. Flipkart has about 50 mn monthly active users on its app and says app-based commerce is the way forward in India, a predominately mobile phone-focused country.
Myntra has launched a new, more personalised version of its app.