Online sales in festive month to cross Rs 20,000 crore: RedSeer
By Alnoor Peermohamed & Karan Choudhury | October 11, 2017
The aggressive push by telecom major Reliance Jio with its 4G data services has offered more people in smaller towns to come online to buy goods this year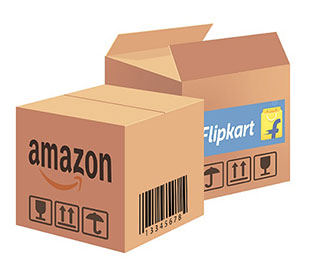 India's e-commerce firms may sell more than $3.3 billion, or Rs 20,000 crore, worth of goods during the one-month festive sale that ends around Diwali.
Since September 20, when the festive sales kicked off, e-commerce firms such as Amazon, Flipkart and Paytm Mall have lined up deals for smartphones and consumer appliances that have given a boost to online shopping this year.

The last of such events would begin on October 14, taking the cumulative sales during the month to grow by 50 per cent over last year, said RedSeer Consulting, an agency that tracks e-commerce sales in the country. The firm said Indian e-commerce firms sold $2.2 billion worth of goods in the 30-day festive period last year.

The aggressive push by telecom major Reliance Jio with its 4G data services have enabled more people from smaller towns to come online and buy goods this year. Besides, e-commerce firms such as Flipkart and Amazon have lined up deals that allow customers to buy higher value goods on instalments or through exchange. "There have been limited cases of shopper fatigue in spite of frequent sales events. Many shoppers have shifted their buying to online, attracted by the offers and greater convenience," RedSeer said in a note on Tuesday.

The firm claimed its report was based on a survey covering 9,000 customers, 1,000 sellers and third-party logistics providers and the use of 100,000-plus data points from e-commerce sites.

Since last year, India's online commerce market has seen a shift. Following Flipkart's revival during last year's festive sale, the company has been able to gain strategic investors which include Japanese investment firm Softbank, helping it to build a war chest of over $4 billion to take on rivals this year. It continues to occupy the top slot despite intense competition from Amazon.

Meanwhile, Amazon which has invested over $700 million in India since January this year, has strengthened its network, expanded into payments and grocery and focused on building a loyal subscriber base with its Prime membership programme.

It also saw Snapdeal being edged out as a serious contender in the e-commerce marketplace model and eventually look at a different model after it rejected an attempt to merge with Flipkart.

Paytm Mall, backed by Alibaba has expanded its online play to bring offline players to the internet and offer their products and services to customers.