Phoenix Mills looks to sell stakes in two malls
By Chaitanya Muppala | August 31, 2016
Likely to use the proceeds to develop new malls as well as acquire new properties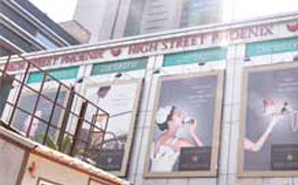 The promoters of Mumbai-based property developer Phoenix Mills are looking to sell 50 per cent stake in two of the company's mixed use projects at Pune and Bengaluru, said a source in the know.
The two projects - named Phoenix Marketcity - are learnt to be valued at Rs 4,500 crore. Phoenix is expected to use the proceeds to develop new malls as well as acquire new properties.
Though there is a buzz that the promoters are in talks with global private equity (PE) investor Blackstone, Phoenix Mills Managing Director Atul Ruia denied it.
"It is not correct that we are in talks with Blackstone to sell 50 per cent of stake in Marketcity malls Pune and Bangalore; nor are we in any sort of active transaction with Blackstone," he said.
We want to continue our leadership position in the mall business and in this context are looking at "various greenfield and brownfield acquisitions," Ruia said. Malls are a capital-intensive business and in this context the promoters are evaluating various fund-raising avenues, including but not limited to a new platform-style joint venture, among others.
He said the board would make an appropriate disclosures if and when there was a transaction/definitive deal, according to regulatory guidelines.
Phoenix Mills runs its flagship high street Phoenix and luxury mall Palladium in Mumbai. Both are counted among the top revenue-making malls in the country. It also owns four Marketcity projects in Mumbai, Pune, Bengaluru and Chennai. Marketcity in Pune has 1.3 million sq ft of space and has other property components, while the Bengaluru project has a more than 1 million sq ft mall and some residential properties, among others.
PE interest in malls is steadily rising. After lapping up two malls of Alpha G Corp in north India, US-based PE giant Blackstone recently bought a mall from L&T Realty at Seawoods in Navi Mumbai for about Rs 450 crore. Earlier, Singapore's GIC bought 50 per cent stake in Viviana Mall owned by Sheth Corp in Thane for Rs 350 crore.
Oberoi Realty, another Mumbai-based developer, is also looking to set up a mall investment platform with global investors such as Morgan Stanley and others.
Cities such as Bengaluru, Hyderabad, Delhi, Chennai, Mumbai and Pune are among the top 10 cities with highest retail sales growth forecast between 2015 and 2019 in the JLL Destination Retail 2016 report. India has also emerged at second position in the 2016 Global Retail Development Index by A T Kearney.
"There is little doubt that the country is becoming an attractive destination for global retailers with further liberalisation of the FDI policy and creation of a business-friendly environment. The growing potential of Indian retail market is already manifested by the entry of several marquee global retailers in the last one year," property consultant JLL recently said.
RECENT MALL DEALS
GIC buying 50 per cent stake in Viviana Mall in Thane
Blackstone buying mall from L&T Realty in Navi Mumbai
Oberoi Realty in talks to set up a mall investment platform