'Retailers must get future ready' : Sandeep Sawant
By Retail4Growth Team | April 02, 2020
Governments, businesses and communities are facing the brunt of coronavirus pandemic. As COVID-19 impacts more people every day, most sectors of the economy have been reduced to a standstill.

So what's at stake for the Retail Industry, how much of it will be hit? Sandeep Sawant, Associate. Vice President, Hyperspace shares his take on the future of retail, plan ahead and much more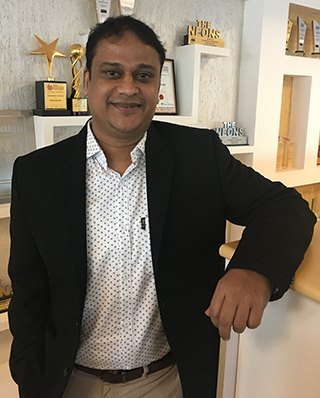 Impact on Retail Industry
The outbreak of the COVID-19 pandemic is having a major impact on the retail industry in India. Setback to any industry immediately affects the employment within the sector. Retail Industry revenue loss will lead to loss of jobs in the sector. It is estimated by the Retails Association of India (RAI) that roughly about 2,00000 people working in the retail sector could lose their jobs.
Businesses, especially those selling non-essential items, can face a longer spell of dry revenues if the spread of the virus intensifies. The market will take about 5-6 months' time to get normal. The business will not pick up immediately during April and May and with the onset of monsoon from June onwards, it will further dampen the business, which means we will foresee light only by the end of August.
Plan Ahead
With complete lockdown announced, there is no immediate plan to reverse the impact, but retailers as a part of the strategy should get future-ready. I believe one should look at an opportunity in any situation instead of looking at the losses.
Retailers, during the period of lockdown and during the period of the slack season following it, should work on multiple parameters like building up infrastructure, training their sales team, strengthening their supply chain, warehousing as well as work on penetrating hinterlands ultimately leading to spreading deeper and wide.
Using time and money wisely, the retailer can get future-ready to take on the challenge once the market reopens, which is expected by mid-July.
New Strategies
Agencies and Shopper Marketing Consultants on the other hand similarly work on strategies that impact shopper marketing. They should work on the technological intervention that will help marketer increase footfalls, and work on newer techniques to be able to do project management effectively.
Every impact teaches us new lessons and with the change in situation posing challenges we are forced to look at an alternative solution. Big Basket sales jumped multifold during this period. The new initiative by Big Basket of approaching Housing Societies and tie-up with people has helped them increase their business by increasing their customer base.
Shopper Marketing Consultancy should work on strategies that will help brands reach the consumer even in such dire situation. The focus should be change from Shop to Shopper. Keeping a strategic focus on the shopper, one can reach out to the end consumer using the latest technology.