Shree to add 100 more stores
By Satarupa Chakraborty | April 17, 2019
Focusing on both metro mall locations and tier III markets, Shree Lifestyle will add 100 more stores, in addition to their already existing 65 stores.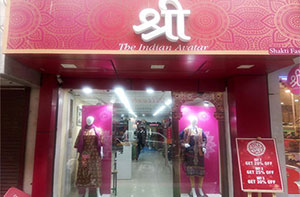 Ethnic retailer Shree has disclosed their plan to add 100 stores by the end of current financial year, in addition to their already existing 65 stores. The expansion plan will focus in tier-III cities as well as the brand's debut in popular high footfall malls in metros.
Shree began as an online retailer in 2011 and came into exclusive store retailing in 2015. Currently, the retail brand operates in CoCo, FoFo and FoCo models for EBOs. Shree will also bring their new store identity soon with the objective of bettering shopper convenience and intensifying display spaces.
Talking to Retail4growth, Ratnesh Singh, Manager – Retail, Shree Lifestyle, added, "Our typical store size varies between 400 and 800 sq ft, depending upon market need and customer base. We are functioning more in fast fashion in the ethnic category by keeping our price point affordable and more interestingly treating 12 months as 12 seasons. Therefore, our collection, VM stories etc change every month, offering our customers a constant sense of freshness. In terms of retail expansion, we have covered cities like Mumbai, Northeastern cities, Delhi etc, although our robust presence still remains within North India. This year, we will be trying many new markets including metro mall locations as well as promising tier III markets."
Similar News
Internationally, Endo Lighting Corporation delivers lighting products to many well-known department stores, specialty stores, offices, factories, public facilities and other retail and hospitality projects.
When one of the global retail giants Amazon India reported an overall 80% Y-O-Y growth of about 80% last year, ethnic wear category contributed about 50% to the reported growth. This could be only a small pie when we map the growth of ethnic retail in India, which is at about INR 70,000 crore currently and expected to grow at a CAGR of about 9 per cent to reach INR 1,26,210 crore in 2019 (Source: Technopak). Retail4Growth presents some of the latest updates that are building the future growth of ethnic retail in India.
The brand is also actively looking at opening at least 20 stores pan India by mid-2019