Titan enters the US market with Amazon
By Chanda Kumar | August 09, 2017
World-class innovation and award-winning designs from Titan will now be available on Amazon.com under Amazon Global Selling Program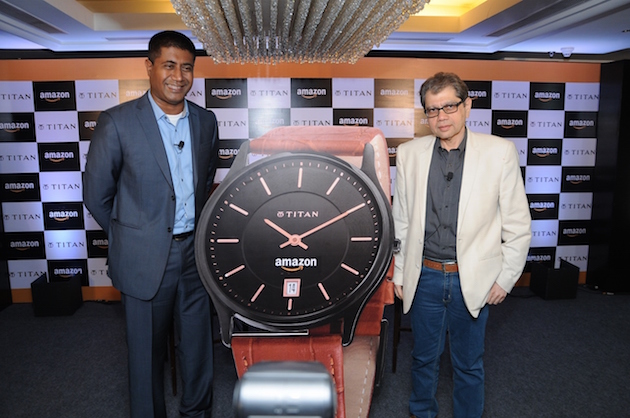 Gopal Pillai, Director & GM, Seller Services, Amazon India & S Ravikant, CEO, Watches and Accessories, Titan Company Ltd
Leading online marketplace, Amazon yesterday announced its partnership with iconic Indian lifestyle brand 'Titan'. through which Amazon will now help the brand foray into the US market and reach out to Amazon's wide and loyal consumer base internationally.


Under the partnership, Amazon through its Global Selling Program will enable Titan to take its vast range of watches to millions of global customers across ethnicities on
Amazon.com
in the US and eventually across other Amazon marketplaces. Titan has continuously maintained innovation and consumer sentiment at its core and its segment-focused brands like Fastrack and Raga, along with internationally recognized award-winning products like Edge which are the most popular among customers across the world. Apart from watches, Titan will also launch its wide range of Fastrack accessories and further plans to add additional products from its robust product portfolio to Amazon's global marketplaces.
Sharing his views on the partnership, S Ravikant, CEO, Watches and Accessories, Titan Company Limited said, "Somewhere in the world a Titan watch is being purchased every three seconds. While this is a reflection of Titan's popularity, it is also propelling us to expand our boundaries. Titan has over 200 million customers and 7000 retail stores spread over 30+ different countries. But with global demand heading north, Titan is westward bound; our entry into the US via Amazon's Global Selling Program allows us access directly to the American market. We are very pleased to partner with Amazon and we are certain that we will be able to offer value for money to our mainstream online global consumers seamlessly through this partnership."
"We are thrilled to have Titan, one of India's most recognized and loved lifestyle brand, onboard and are excited to help fuel the brand's growth by offering unprecedented reach to global consumers. Through this program, we will offer Titan an end-to-end solution and help the brand cater to the growing appetite for quality Indian products amongst global consumers. Since its inception in 2015, our Global Selling Program has grown multifold and has been constantly taking 'Made in India' products global. We are delighted that the program is enabling emerging companies as well as iconic Indian brands such as Titan to leverage the opportunity to access a large base of hundreds of millions of Amazon customers." said Mr. Gopal Pillai, Director & GM, Seller Services, Amazon India.