UBON announces diversification in PPE products to prevent Covid-19 outbreak.
By Retail4Growth Team | May 21, 2020
Quality range of products includes Face Masks, Hand Sanitizers and Infrared forehead thermometers for the maximum safety of frontline warriors and the general public from COVID-19 outspread.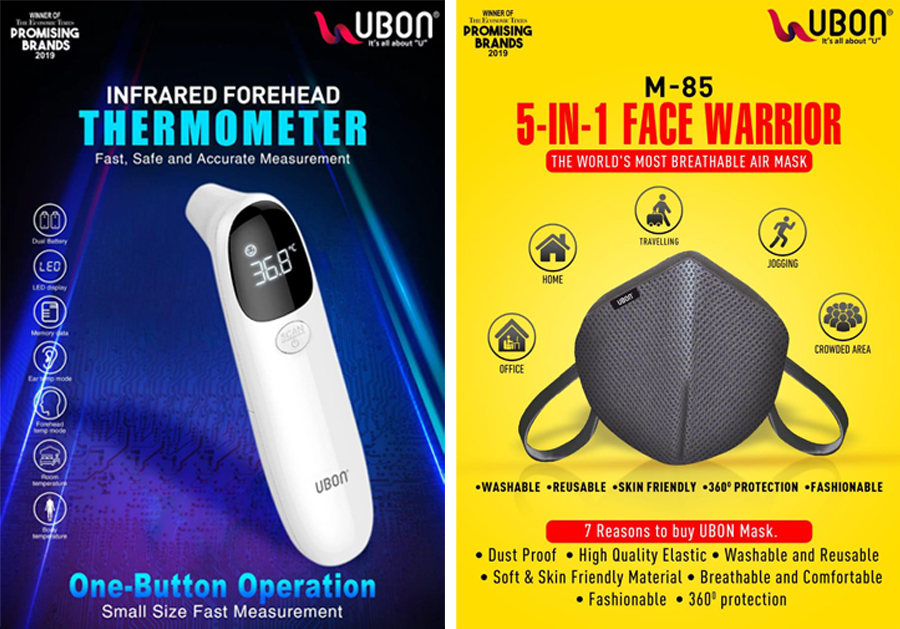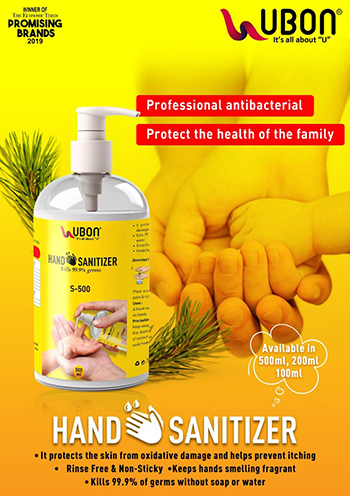 UBON, Gadget Accessory & Consumer Electronics brand, is launching a wide variety of products in order to ensure maximum protection from COVID-19 dissemination. The inventory includes UBON M-85 mask, UBON M-75 Mask, Hand Sanitizer, UBON single-buttoned infrared forehead thermometer, and TOKSHU infrared forehead thermometer, from the house of UBON.
The masks that come in two variants, M-85 and M-75 ensure maximum breathability and '360-degree' protection. They are prepared from a skin-friendly, synthetic material that ensures a perfect fit as well. They are washable and reusable and come with a high-quality neckband which doesn't lose elasticity even after several uses.
The hand sanitizers are bottled in 3 different quantities, 500ml family pack, 200ml bottle, and 100ml easy-to-carry bottle. UBON has launched two different variants of Infrared thermometers - TOKSHU infrared thermometer, a UBON product comes with a clear LED screen, dual battery, data storage facility, with both ear and forehead temperature modes. The other variant is UBON One-button infrared thermometer. It is a handy tool with a single-buttoned functioning and a big LED display. It covers various testing modes including the ear temperature mode, forehead temperature mode, room temperature mode, and body temperature mode.
Commenting on the release of this new product range, Lalit Arora, Co-Founder, UBON said "We are proud to announce that apart from manufacturing premium consumer tech products, our team is now focused and fully geared to manufacture and launch quality PPE products to serve our nation in this difficult phase. At UBON, we strongly believe that we must be #vocalforlocal and it is our utmost responsibility to contribute significantly to all corona warriors who are fighting to prevent us from this pandemic."