V-Mart to enter Northeast market with a flagship in Guwahati
By Satarupa Chakraborty | August 24, 2018
In addition to their portfolio of 180 stores across 14 states and 149 towns, value retailer V-Mart will soon expand their presence in the Northeast market with the region's first store in Guwahati. The retailer will soon open stores in Arunachal Pradesh and Meghalaya.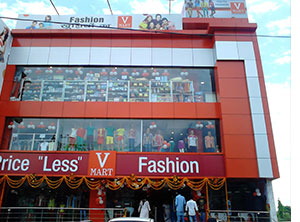 Value retailer V-Mart Retail Ltd, with more than 180 stores across 14 states and 149 towns, will soon be launching its flagship store in Northeast, starting with Assam.
Lalit Agarwal, CMD, V-Mart Retail Ltd, stated on this occasion, "V-Mart is one of the fastest-growing value retailers in India and we are delighted to launch our stores in Northeast. Starting with Assam, which is the gateway to the famed 'Seven Sisters', renowned for their unique heritage and culture, we will be selectively expanding into several locations in this region. By the end of October, we will also enter in Arunachal Pradesh and Meghalaya with one store in each state. This is further affirmation of our commitment to taking affordable fashion to where the actual India resides."
V-Mart Retail Ltd, which commenced operations in 2003, has grown to become one of the most preferred destinations for all fashion and lifestyle needs of its target consumers in Tier II &Tier III cities, and caters to more than 4 crore customers every year. As per Bloomberg data, V-Mart was the 'World's best performing department store chain' in 2018, among 105 retail chains worldwide with a minimum valuation of US$200 mn.
Commenting on the foray of V-Mart Retail in Northeast, Snehal Shah, Sr VP- Marketing & Operations, stated, "This is a proud moment for us, as we are able to bring our unique combination of latest fashion at best prices to a new and promising market, and also contribute to investment and employment generation in this region. Given our existing scale, combined with a cluster-based expansion approach, we can consistently secure best value from suppliers for our customers. We are sure this will make us a household name in Northeast very soon."