Walmart India welcomes Krishna Iyer as President and CEO
By VJ Media Bureau | Vjmedia Works | December 17, 2013
The international retailer expressed keen interest in India with continued investment opportunities in the country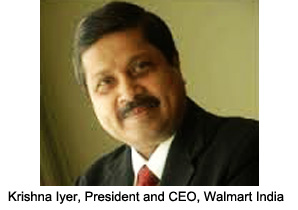 Walmart announced Krishna Iyer as CEO and President of Walmart India effective from January 20, 2014. Iyer, who will report to Wal-Mart Asia regional president and CEO Scott Price, will replace interim CEO Ramnik Narsey, who is taking a new role as senior vice president, Walmart International. Ramnik will report to David Cheesewright, the incoming President and Chief Executive Officer for Walmart International.
Scott Price, president and CEO of Walmart Asia said, "Krish will be responsible for leading the growth and success of our India operations while also continuing to develop our future retail strategy there. His knowledge of our business, combined with his understanding of the Indian market and culture, make him a natural fit for this role. I would like to personally appreciate Ramnik and acknowledge his leadership of our India business as we worked to develop our current business plan."
Iyer said on his new appointment, "It is an honor to be named to this role and to have the opportunity to continue to develop Walmart's business in India. Through Walmart's investment here, including our cash and carry business, supply chain infrastructure, direct farm program and supplier development, we want to serve India and its people, and continue to make important social and environmental contributions to the country." Originally from Mumbai, India, Iyer joined Walmart International as a senior vice president in 2012.