Wholesale kiranas dot metros, a big hit with shoppers
Vjmedia Works | May 11, 2015
Offering discounts of Re 1 to Rs 100 on purchases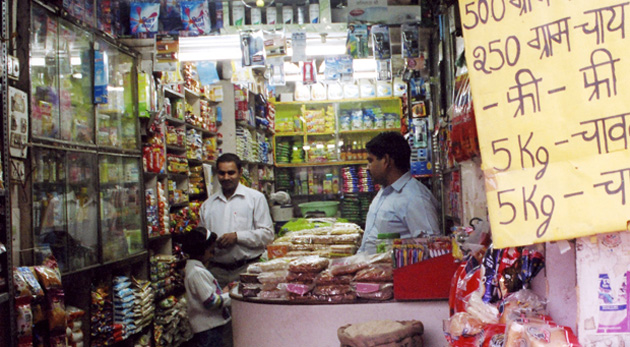 He is not your conventional baniya, who would be constrained by limited stocks and charge you the maximum retail price of a product.
Meet the new-age kirana owner, who operates like a wholesaler, stocking everything from packaged food items to personal care and home care products, and offering good discounts on those, thereby, drawing both smaller shopkeepers and individual buyers to his store.
These stores have already become a hit with shoppers as they give discounts of Re 1 on products like soaps to Rs 100 on larger packs like diapers.
Interestingly, these kirana store owners pick up their stock directly from companies, unlike regular neighbourhood kiranas which do so from a larger distributor or wholesaler.
These storekeepers earn two per cent margins in their business.
This new channel is coming up in addition to the traditional manufacturer-distributor-wholesaler-retailer route and company-wholesaler-retailer route (where wholesalers are those like Metro, Walmart, Reliance).
Cargill India Chairman Siraj Chaudhry, a veteran in the fast-moving consumer goods (FMCG) sector, says: "These guys are super or micro distributors."
Discounts attract

Bunty Singh of Sahara Soap Centre in the western suburb of Mumbai's Santacruz says he is never short of customers. "I think it is the discounts that bring people here," he says.
"I have both ordinary people and small-time retailers coming and making purchases at my store. I offer discounts on any item you buy. It could be as low as Re 1 on a bar of soap to as high as Rs 90-100 per unit for a large pack of baby diapers. Much also depends on the quantity you buy. The more the merrier," he says.
Predictably, consumers are not complaining. "I do all my grocery shopping at these stores," says Margaret D'Silva, a housewife in Santacruz. "If I am getting discounts here, why do I need to run to the nearest Big Bazaar or Food Bazaar. This is convenient for me," she says.
Metro-centric
While the trend appears to be catching on with almost every locality boasting at least one or two stores in cities like Mumbai, experts say it is largely a metro-centric phenomenon.
Technopak Chairman Arvind Singhal says: "Largely, these stores can be seen in middle-class, and to some extent, upper middle-class localities within these cities. Typically, they service not only individual consumers but also small retailers. They offer significant discounts on purchases and stock merchandise across the board. Whatever a consumer wants, of whichever size and denomination, is available with them."
Harminder Sahni, founder & managing director, Wazir Advisors, says: "Consumers seek value for money as far as their purchases are concerned. The result is that stores like these, or whichever destination offers them good value for money, see footfalls."
FMCG companies say, at this stage, these wholesale kiranawalas remain largely a means to improve reach - basically go where company-appointed distributors are unable to go. The channel does not form a significant proportion of company sales, they say.
"It makes sense for these micro-distributors to target a small area, where they could cater to retailers in that area and also additionally sell to individual shoppers there. It is a win-win for everyone in the chain; what the company gets is reach, store owners get inventory at a lower price, and consumers benefit from the savings made on their purchases," says Cargill India's Chaudhry.
As things stand, at an industry level, general trade (under which these wholesale kiranas fall) accounts for 92 per cent of FMCG sales; the rest comes from modern trade. In the case of individual categories like personal care or packaged foods, modern trade's contribution could be higher (as much as 20-25 per cent of sales).
However, the business is not an easy one to operate, say the store owners. "It is really difficult to run with two per cent margins. You can manage only if you have big scale," says Rajendra Gupta, owner of stores in Mumbai's Thane area.
________________________________________

AFTER SUPERMARKETS, WHOLESALE KIRANAS
• Wholesale kirana store owners pick up stock directly from companies
• They earn a two per cent margin in the business
• The significant discounts they provide are pulling customers
• Such stores are dotting middle class and upper middle class localities in metro cities
• They serve not only individual consumers but small retailers