A Plus Fixtures launches plug-n-play for SIS formats
By Satarupa Chakraborty | June 06, 2018
Suitable as plug-n-play for SIS formats, these fixtures are made with pre-laminated boards and specially-designed aluminium channels. Completed with in-built LED lights, signages etc, these store structures can be installed in just an hour.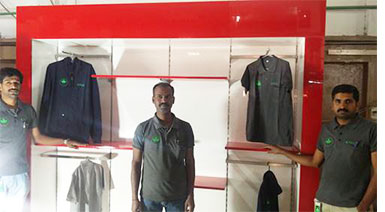 Bangalore-based fixture manufacturing company A Plus Fixtures has recently launched a plug-n-play structure especially for SIS formats. These standalone SIS models are made with pre-laminated boards with specially-designed aluminium channels.
Talking to Retail4Growth, Vasudevan Srinivasan, Director, A Plus Fixtures,explained, "The idea of the pre-fixed SIS structure came to our mind keeping the promptness of rollout in mind. Every brand and retailer today is looking to reduce the installation and set-up timeline. With this range of products, the installation time, which used to take at least a number of days, has been reduced to just an hour! Being completely plug-n-play, these structures are designed to precision with pre-fixed LED lights and signages and can be installed without any additional support. Except for the LED, all the elements have been developed and manufactured in-house."
A Plus has recently installed 40-50 of them for various brands.