Bharat Flooring launches new tile range in collaboration with StudioSCD
By Nabamita Chatterjee | March 15, 2018
The new range of tiles are inspired by the various forms of nature for a subtle yet playful look.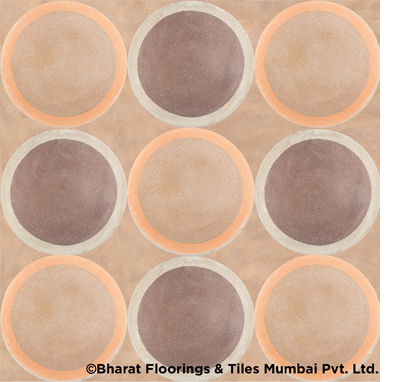 EXTRA LARGE PLEASE is the new collection of bespoke concrete tiles in collaboration with Bharat floorings which has been rolled in the market recently. Located in the bustling and historical area of Kala Ghoda in Mumbai, StudioSCD is a boutique design studio, store and consultancy agency. StudioSCD also creates capsule collections of limited edition pieces in furniture, fashion, wall and floor treatments and leather goods. Highlighting the essence of the raw material, they seamlessly layer colours and textures to create distinctively bespoke interiors and fashion wear.
Some of the collection includes – Macaron, the sensual curves of the macaroon are the inspiration behind these tiles. The Macaron can be randomly placed or laid out in a repetitive pattern for a playful look. Their extra large size in fact helps to make smaller spaces look larger.
Tropical hive collection gets its inspiration from the bee hive or the hexagon which is the quintessential shape that is prevalent in nature. Inspired by the industrious bee, the hive series celebrates the hexagon in deep and subtle tropical hues.