Classic Marble introduces new variants in Stone & Luce collection
By Nabamita Chatterjee | May 28, 2018
The new products are less porous and harder than natural marble, making them ideal for various interior and decor applications in commercial as well as residential areas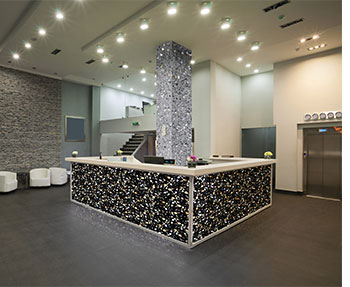 Classic Marble Company (CMC) recently introduced six new luminous products in its latest collection of translucent stones – Stone & Luce. Launched under the company's popular brand Kalinga Stone, the Stone & Luce is a mosaic-inspired collection with backlit surfaces. The contemporary variants of mosaics feature small pearly white pieces embedded in colourful backgrounds. Branded as Eden, Crystal, Gemma, Oro, Preziosa and Alba, the products are available in baby blue, light grey, blush red, silver pink, gold yellow, pale yellow and black colours.
Redefined for modern architecture, Stone & Luce is a collection that combines the exquisiteness of mosaics and the elegance of marble. With translucence as its main characteristic, the marble allows light to pass through the small pieces of stones or chips embedded in the surface.

Besides being visually gratifying, the new products are less porous and harder than natural marble, making them an ideal choice for various interior and decor applications like flooring, walls and table tops in commercial as well as residential areas. It comes in specifications of 304 X 125 cm and with thickness of 18 mm and 20mm.