Tranz Mannequins creates 10 feet high structure for Citrus
By Smita Sinha | May 31, 2019
The body of the winged mannequin is made of clay and FRP and the wings are made of sunboard and thermocol.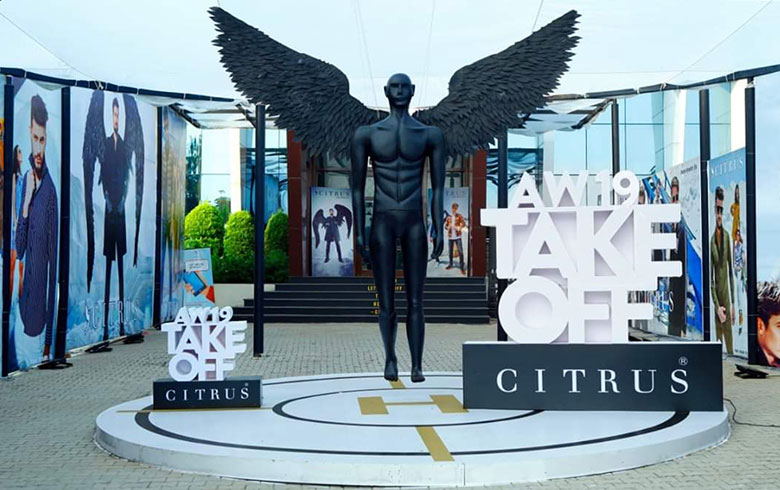 Bangalore-based mannequins, VM props and hangers manufacturing company Tranz Mannequins has recently designed and executed a 10-feet mannequin for clothing brand Citrus to be set up at an exhibition held in Clarks Exotica Convention. The company has also created a call-out unit for the clothing brand.
The body of the 10 feet mannequin is made of clay and FRP and the wings are made of sunboard and thermocol. The call unit is made of acrylic.
Talking to Retail4Growth, Siby Varghese, Director, Tranz Mannequins, explained, "Citrus wanted a 10 feet mannequin with wings. When the client asked us to do this initially we thought it was going to be simple, but it did pose challenges in terms of getting the anatomy of the body right. That's when we realised that it was not going to work out the traditional way. It took nearly 3-4 people to join the parts together and put it at the site. We completed the mannequin in 4 days. The main challenge was to create the wing which was done using sunboard and thermocol sheets."
Similar News
Tranz Mannequins starts saree draping service to help retailers display the patterns and design of the merchandise better. Tranz is already working with saree retailer Parthas with this service.
Tranz Mannequins, having company-operated B2B showrooms in Calicut, Bangalore and Chennai, has recently started expanding their showroom network via franchisee network by opening one in Cochin. Tranz will soon have such showrooms in Hyderabad, Kolkata and Mumbai.
Founded in 2007, Bangalore-based Tranz Mannequins has evolved over the decade to offer mannequins matching international standards in terms of quality and trend & yet suitable for Indian retail clients' sensibilities.