A tasteful signage for balle balle Dhaba
By Nabamita Chatterjee | October 08, 2014
The signage was designed keeping in mind the flavour of the cuisine served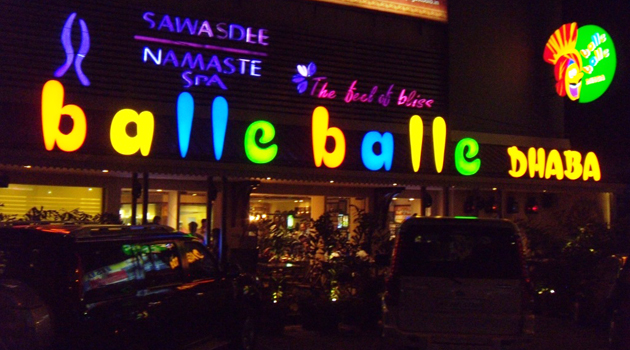 balle balle Dhaba, an eatery next to the very popular mall City Centre I in Salt Lake, Kolkata, crafted an appealing look recently with an interesting and colourful signage to attract the customers and thereby giving an inviting feel to all. Executed by B Chaudhury Print & Art Services, the F&B warren got a transformed look and feel with this makeover.
Debabrata Chaudhuri, Managing Director of B. Chaudhury Print & Art Services, informs, "As the outlet is positioned on the ground floor of a very traditional looking building and as the flow of mall crowd is exactly not there on that side where the'dhaba' is located, for us the challenge was to make the place highly visible and create a strong impact by establishing the presence of the brand. We worked out the design in a way that the flavour of the word'balle' is there suiting the external architecture of the building."
"The signage needed to be very light because the only place it can be placed was an extended shed which is not placed on strong structure and acts as a showpiece only. We prepared the 3' ft high cut-out channel letters with acrylic across the 50' ft long facia and placed one flange of 7'ft high on the side wall of the building. This was done with MS structure, flex with vinyl decoration and the coloured vinyl used for the project is a 7 year product from GRAFITYP. The electrical work is done with IP66 grade GE LED having power drive," he adds.
Chaudhuri points out that "the existing signage of the Spa on the first floor was also very prominent and known to people, so we needed to create a much stronger signage to out-power the spa signage on the first floor and establish the name of this new eatery."
After the execution the power of the new signage was clearly felt, and in fact it is so prominent that no one can miss it. It is important to consider the quality and presence of a strong signage for any project. "This is of more value than just focussing on cost which provides no return at times," concludes Chaudhuri.