Amante : Floral Rhapsody
By Satarupa Chakraborty | April 10, 2018
Innerwear brand Amante's Spring-Summer window, Floral Cocktail, hit the brand's 10 premium stores. With minimal use of mannequins, the window presents colorful paper-crafted flowers matching the displayed merchandise and played around 5 primary colours.
Innerwear brand Amante has recently launched its "floral cocktail" window at 10 flagship stores across the nation in premium cities. The minimalistic window brings the characteristic of the brand by generous use of colourful paper flowers and use of two mannequins donning Amante merchandises.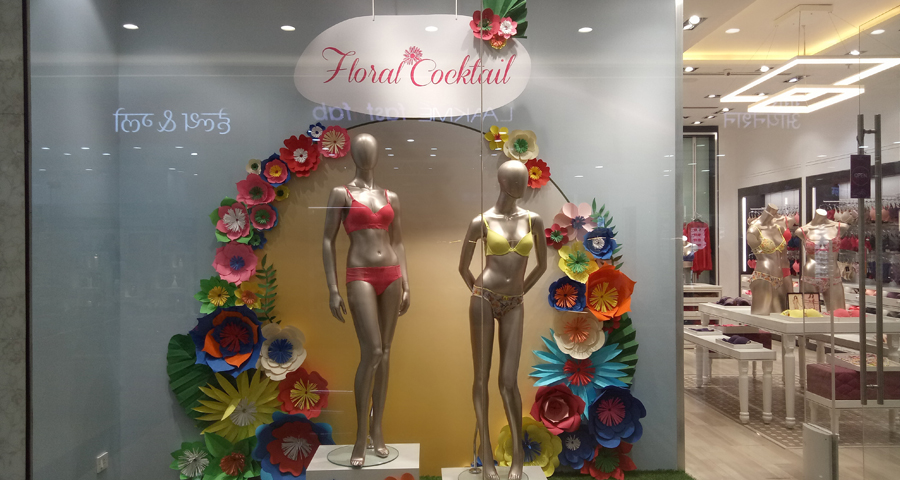 Himani Shetty, Head - VM, Amante, told Retail4growth, "The floral Coacktail window was planned to bring out a plethora of colours through those paper flowers. We worked around 5 primary colours, which matched the shades of displayed merchandises. The biggest challenge we faced in the beginning was to achieve uniform look of the flowers across all stores." Delhi-based HG Graphics has worked on the campaign for the stores across north India, while Catalyst Design executed the window across the stores in south India.
Deep Sharma, Retail Specialist Project Lead, Catalyst Design, added, "After we received the layout and concerted plan on the execution, we had very little time to source materials and get it approved from the brand. We used vinyl as the background wall that was adorned with paper flowers."