"Art & Design" : adding glamour to the Vogue Institute
By Nabamita Chatterjee | April 22, 2016
This project opened up new areas in signage design and execution that improved the learning curve to a great extent for Nickelxd.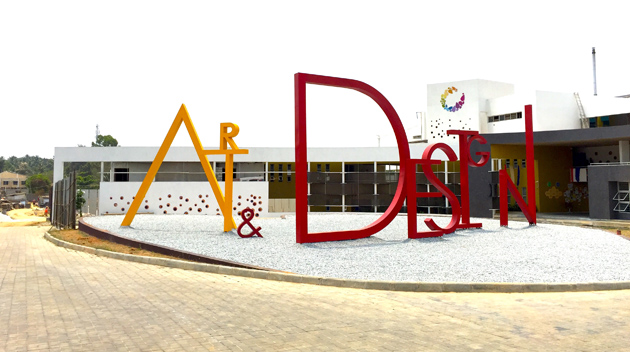 Vogue Institute of Fashion Technology, an institute of "Art and Design", recently added much glamour to its building facade with a cutting edge signage. Designed and executed by Nickelxd, the objective of innovative signage is to clearly portray that this institution stands for artistic and fashionable sensibilities. Covering about 7,200 sq. ft., the site is located in the Doddaballapur apparel park.
Nikhil Baveja, Head of Design at Nickelxd shares, "We conceptualised this by combining the words in a very dynamic form. Letters were scaled up and down and put together in a simple yet interesting manner. We wanted it to be larger than life, something that would stand out and be of significance. The challenge was the campus building itself, since the building was the most prominent structure as one entered the campus, we had to blend in the building façade with "Art & Design". The size and placement of each letter was meticulously thought out and prototyped before creating the final design. We also wanted the words to be visible from all sides, hence the placement of the letters was done in sync with the entrance pathway that curved around the structure. We as a service provider like to stretch the boundaries of design in every project. This project opened up new areas in signage design and execution that improved our learning curve to a great extent."
The installation has been of varied height, the tallest being 20 feet and the shortest being 3 feet. This being an outdoor installation, weather conditions were one of the main challenges, and thus they came up with a hybrid structure having an MS support structure on the inside and painted aluminium sheet for the outside. The combined strength of MS and the durability of aluminium has been an ideal blend for the structure.
The entire project was given to Nickelxd as a turnkey solution and they have created various other installations in and around the campus.
Nikhil further mentions that the challenges in cost is always a constraint, hence they had to make creative decisions on design and materials to arrive with the best solution for design, stability and durability. The time taken to complete the entire signage project was six weeks.