Britannia Treat: Brings Fun 'In The Middle' Of Grocery Shopping
By Chanda Kumar | September 18, 2018
Creating an interesting gaming activation, Britannia Treat taps the kids and teenage segment at retail stores with the 'Treatanaut' campaign.
Grocery shopping with parents can be a daunting task for kids and teens. But this is also a target group which is important to brands, who tirelessly entice them with eye catchy communication or offers. However, they hardly get noticed by kids, as they are just not entertaining enough! To crack this age group at the store level, Britannia Treat recently launched a mobile game app - Treatanaut for kids and the Britannia Modern Trade team conducted on ground activation for the same across 50+ Hypermarkets over a period of 2 months.
Britannia Treat's tagline stands for 'Fun In The Middle', and that's just what this gaming activation tried to bring for kids at the store, who are usually bored while they tag along with their moms for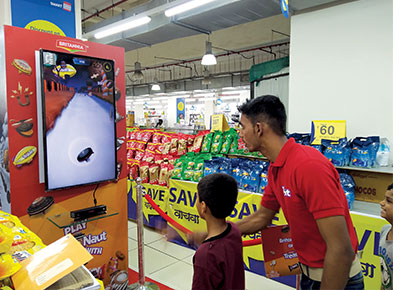 shopping trips. The activation was carried out in Delhi - NCR, Mumbai, Bangalore, Chennai, Kochi, Hyderabad, Kolkata and Ahmedabad. Britannia Treat's activation targets new stores every weekend across stores including Star Bazaar, Spencer's, Spar, Reliance Retail as well as regional chains.
Placed in high visibility areas, the Treatanaut branded experience zones includes an LED TV and XBOX with Kinect technology, while promoters at the store aid kids to sign up and play this game using motion sensing technology.
According to Britannia, brands often fail to target children at the store or shelf level as kids can't interact with a standee, meanwhile they find promoters as 'irritating/boring' and coupons are read by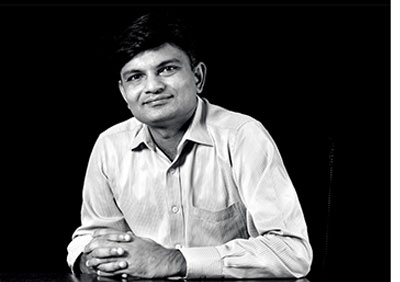 less than 10%. This new activation by Britannia will be used to drive downloads of the game, increase brand recall, generate product trials and also make the whole activity viral online. Creating the buzz in-store, kids get to play the Treatanaut Game, when the purchased 3 Treat 150gm packs.
Cycool and Group M have been the brand's agency partners who have supported Britannia in end-to-end execution.
Gunjan Shah, VP Sales, Britannia Industries shares more about the activity
Since it's already been a few weeks since this activation has commenced, what has been the results in terms of sales & brand recall?
This activation by Britannia is a first time ever experience zone in Modern Trade outlets with the objective of getting the target consumers to interact with the brand at the point of purchase. Through this activity, we have so far been able to reach out to an average of 350+ kids every week across 35 stores and 7 cities, totalling to more than 10,000 interactions over 3 consecutive weekends. Our sales have shifted by 1.5x and the activity has helped us to strengthen the 'fun in the middle' equity for the Treat brand.
How do the results of this activation compare to results from plain in-store branding such as FSUs, shelf branding etc?
Different activations have different objectives. Elements like FSU, End caps etc are instrumental in catching shopper attention visually when announcing a launch or a promotion or reinforcing the brand communication. However, in-store engagement activities create a differentiation from the clutter and shoppers also enjoy the personal touch that the brand has to offer.
What are the learnings for the trade marketing/shopper marketing teams from this activation?
Experience zones inside stores (like Treatanaut) helps strengthen the brand equity ("fun" equity, in case of Treat) with its target audience by holding their attention for longer and hence have a fair chance at influencing their decision at the point of purchase. While scalability is a challenge with these activations, they can be overcome by targeting high throughput stores in the right catchment area in order to get the desired output from such activities. Moreover, with the way retail landscape is changing, more and more stores are incorporating digital experience zones into their plans and hence such activations have huge potential in the upcoming retail scenario.