Have fun @ home, stay positive - Reliance Trends' new message
By Retail4Growth Team | July 06, 2021
Reliance Trends' new window themes are about 'Fun at Home' and 'Ready for Better', both aimed at spreading cheer and helping people, especially children, discover fun things to do at home.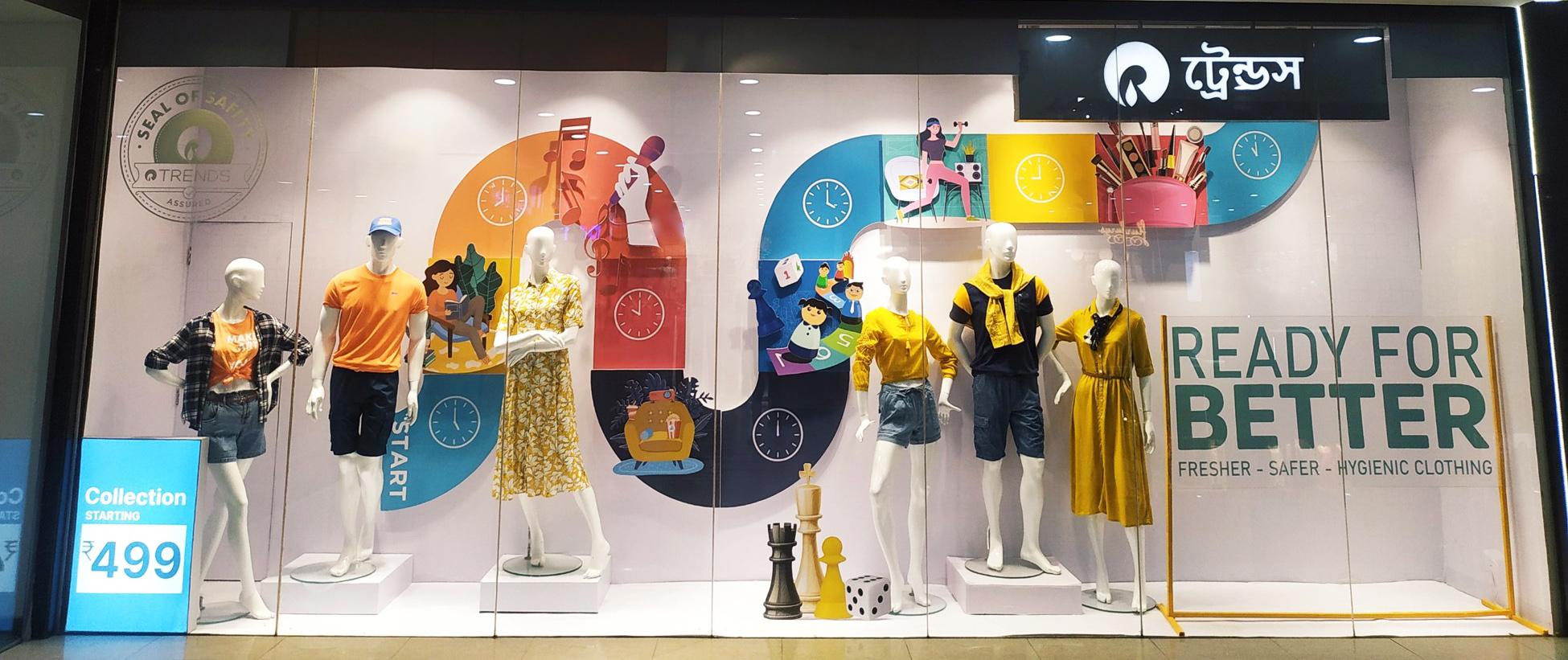 Store windows not only capture the prevailing mood of the season, but also do their bit to enhance a festive mood and spread positivity. In their latest window initiatives, Reliance Trends has rolled out two themes - 1. 'Fun at Home' concept for their young customers inspired by a board game. 2. 'Ready for Better' window to celebrate small events surrounding us, which we usually ignore.
Rajib Dey, Head - VM, Trends, says, sharing the approach behind these themes, "As a popular fashion brand with 1500+ of stores in place, it becomes our moral responsibility to empathise with the customer and be a part of their journey. Considering that our window is the main talking point, and especially during these tough times, we make sure the window communicates with the customer. It is one of the most effective ways to spread our message to many people."
He explains further, talking about the 'Fun at Home' window concept, "It's been over last 18 months that the wave of Covid19 is going on. We have covered all that communication and ways of doing things at home. However, now that the Pandemic is still going on, it is hard to keep up with each person's motivation as no one can travel or live their lives as before. Hence during our brainstorm session for the window, we wanted something for kids that is more fun, interactive, and conveys motivation and positivity"
This window is based on the game of Monopoly and is made region-specific, so every state has their own route map in the window with famous cities and little pop-ups with their popular touch points. So kids can travel with their fantasy route and cherish their story of activities. The VM team has created a route map of different cities and also a monthly calendar for kid's activity so that the entire family can be together and enjoy this lockdown time in positive ways.
Rajib informs that the window is getting great responses from customers, kids especially. The other window 'Ready for Better' aims to celebrate small events surrounding us, happenings which we usually ignore. The idea is that by celebrating these moments, we can rejuvenate ourselves and be ready for a better tomorrow.
Talking about it, Rajib says, "We were trying to communicate to our valuable customers to be hopeful and be positive in this pandemic situation through cherishing all small events, which give you pleasure and joy. We are hopeful that we can come out from this phase with positivity, and we are "Ready for a Better Tomorrow". In connection with the window we have created different wardrobe looks for respective categories and brands and entire floors are connected with the window themes."