Louis Philippe's window display delineates styling with safety
By Retail4Growth Team | Retail4Growth Team | December 03, 2020
The Ath. Work Anti Viral window display is exhibited across all Louis Philippe Sports and Jeans stores in India.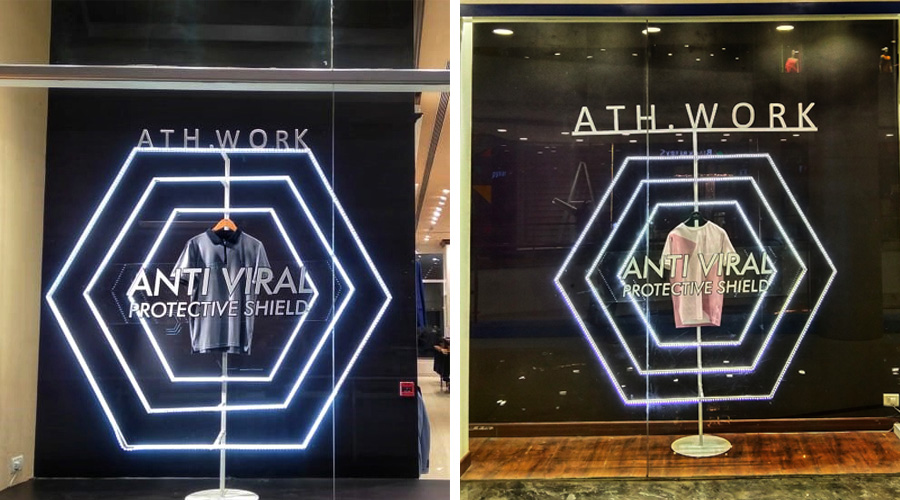 The premium men's apparel brand, Louis Philippe aims to attract footfalls as it showcases its new Athleisure window display that beautifully blends the message of styling with safety. The window aspires to protect the interest of viewers by unleashing collections with added protection to combat the on-going situation.
Speaking about the ideation, Kapil Yadav, Head Visual Merchandiser, Louis Philippe & Simon Carter, stated, "Athleisureis a trend in fashion in which clothing designed for workouts and other athletic activities is worn in other settings, such as at the workplace, other casual or social occasions. The Ath. Work Anti Viral is for the man who likes to be active in his life, be it work, gym or running. With stretchable fabric to clean surface cuts, Ath. Work Anti-Viral defines the future of clothing. The fabric has anti-bacterial properties which repels viruses and hence is very apt for today's environment."
READ MORE: Van Heusen shields emotions through its revolutionizing designs
The Window Display is inspired by the clean yet minimalistic look. The use of bold yet highlighting elements depicts flow and movement with minimalistic view so that the main focus remains on the merchandise. The implementation of Neon LED lights depicts futurism and modernism. Materials such as MS pipe, Acrylic and Vinyl are being used to elevate the beauty of the display.
The team surpassed all challenges and executed a visually attractive and decent window design which is exhibited across all Louis Philippe Sports and Jeans stores in India.