Patanjali's juicy splash in store
By Smita Sinha | June 10, 2019
Pantanjali's Mix fruit juice makes a vibrant splash in stores aided by smart visibility solutions designed and executed by Spectrum Scan.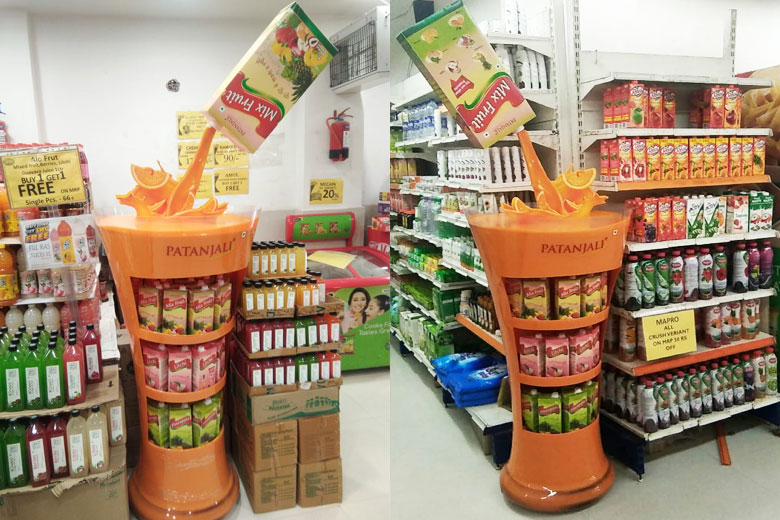 Yoga Guru Baba Ramdev's Patanjali Ayurved has recently rolled out an eye-catching and innovative FSU for their new range of Mix Fruit juice. With this new instore activation, Patanjali wanted to stand out in the cluttered market of packaged fruit juice and create recall value in the shoppers' mind at the point of purchase.
Designed and executed by Mumbai-based Spectrum, the unit in bright orange has three shelves with the branding on top on the tetra pak. The FSU is screen printed on 2.5mm PETG and thermoformed to create the effect of a suspended tetra pak pouring juice into a glass. The units were deployed at 10 modern trade outlets.
Amit Shah, Managing Director, Spectrum Scan shared with Point-of-Purchase, "Patanjali wanted to position itself as an international level. The primary challenge we faced was printing and forming of the glass and the juice pouring into it from a suspending tetra pak. The FSU is done in two parts. First, we created the juice suspending from tetra pak and then we have created the glass which is of approximately five and a half feet. The designing was approved in the first shot and after 2-3 iteration, the result is an innovative and trendy display grabbing the instant attention of the consumers."
Currently, India's fruit juice market is worth around Rs 1100 crore. With this new range of mix fruit juice, Patanjali aims at raising the competition level for rival brands like ITC's BeNatural, Dabur's Real, Pepsico's Tropicana.
Similar News
The FSU is made out of wood and finished with duco paint. The shape of the unit was derived on the theme of Zero with modular shelfs which made it stand out.