Perfetti Van Melle's Mentos creates fresh connect at MT outlets
By Smita Sinha | July 17, 2019
The in-store communication elements, from innovative FSUs to parasite hangers, have been designed to highlight the gum bottle containing the sugar free product on the units.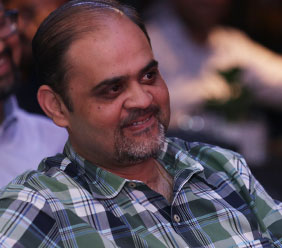 In order to create a fresh connect with the consumer, Perfetti Van Melle India, has recently come up with impactful and innovative in-store activations for its Mentos Pure Fresh Gum at over 650 touch points across 450+ stores across the country.
The in-store communication elements, starting from creating innovative FSUs to parasite hangers, have been designed by the Indian trade marketing team of Perfetti in coordination with Perfetti Global teams to highlight the gum bottle containing the sugar free product on the units.
The freshness platform with 'make it a fresh day!'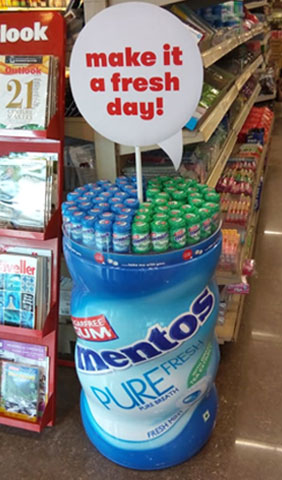 communication for Mentos Pure Fresh was introduced with Floor Standing Units (FSU's) across leading hypermarkets. This disruptive secondary visibility element was placed at high traffic points within a store. Parasites with a new shopper communication 'fresh to meet you' helped create visibility and product availability points in smaller formats for the brand.
Speaking about the objective behind the in-store campaign, Ashish Kapoor, Director – Sales, Perfetti Van Melle India, says, "The objective behind this in-store campaign was to bring in the Mentos brand essence to create a fresh connect, in-line with digital shopper communication for the brand in India with a clear call-to-action in-store."
To maintain a premium look for the display unit, high impact polystyrene sheet using foaming technique was moulded in the bottle shape. This steady unit helped to hold bottles in-line with sales rotation to avoid any excess stock.
Among all the segments of the Indian confectionary market, the chewing gum market is growing at the fastest speed. According to a Mordor Intelligence report, global chewing gum market is predicted to reach USD 22.27 billion by 2024 growing at a rate of 4.3% during the forecast period (2019 - 2024).
Sharing a few analyses of the campaign, Kapoor said, "We track our brand performances with the help of offtake data shared by Nielsen for modern trade. For this specific intervention the product witnessed 20% increment during the campaign period and stabilizing a 15% higher base for the bottle transactions compared to pre-campaign. This activation helped articulate brand's core shopper proposition of 'start fresh connections today' in line with the brand's ATL/Digital communication in India."
He further added, "With our understanding and the category in which we play, better results are driven through higher interaction points within a modern retail outlet."
Talking about the budget of in-store marketing, Kapoor, says, "We assign separate input budgets for modern trade and almost 80% is attributed to in-store marketing, visibility hire and activations. Consumer promotions would be taken care of in the balance investments."
Similar News
The brand has always been instrumental in capturing the target audience with innovative festive displays each year.