Premium collection, stylish decor make Vero Moda's new window a head turner
By Mohit Manghani | January 03, 2020
The dazzling window display showcases limited edition of Vero Moda Marquee and leaves a stupendous mark with its design.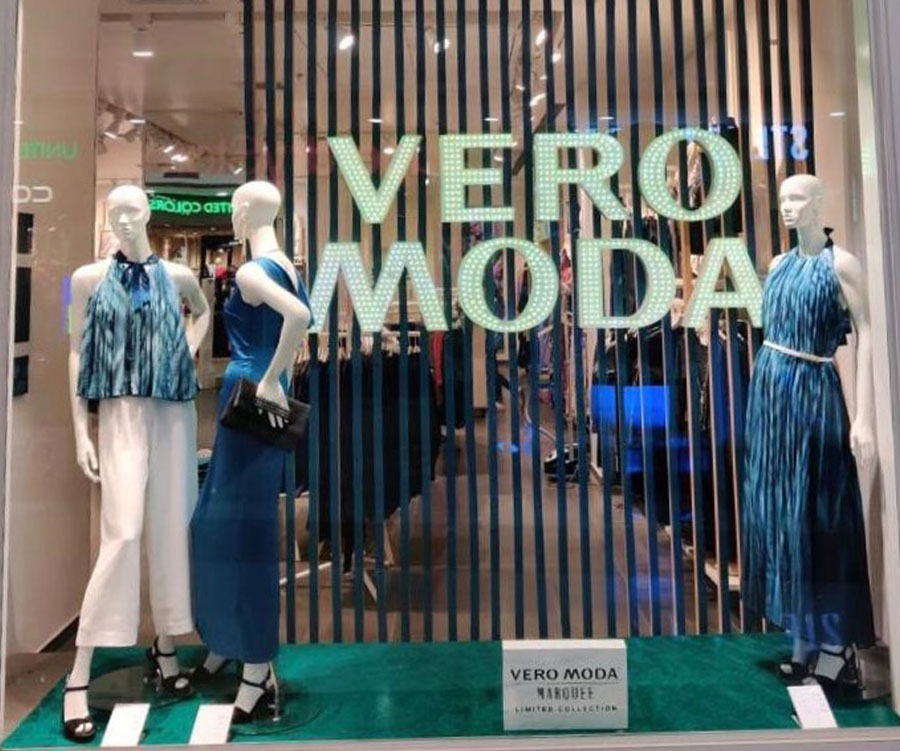 Vero Moda has recently announced their elite and limited Marquee Collection, a special range of occasion wear, with eye-catching windows across selective stores. In a chat with Retail4Growth, Nuno Rosa, Creative Head of Visual Merchandising, & E-Commerce Styling Manager at VERO MODA INDIA shares more details about the elegant window display. Excerpts:
Can you share details of your latest Vero Moda window display? What was the objective behind the new display? How many outlets have you introduced this concept?
The objective of designing and creating a new window concept during this season was to showcase our Premium and Limited Edition of VERO MODA MARQUEE, that had 7 inspiring collection's, available in selected stores throughout the months of September up to November. Each season, I collaborate with our In-House Design Department, studying the new garment's and designing pieces that are being created for the MARQUEE Collection, as the same ones, will be the base of my inspiration to create a new window that is linked with the look and feel of our brand, respecting the DNA and values that we are based on.
From there, we go into phase 2 and start a deep research regarding the message that we want to showcase and the visual impact the same may have among our customer's, as at the end of the day we are selling an emotion and a fantasy using different elements of decoration, that will build an ambience that seats well with the collection's designed.
Along with the main AW19 Collection that was available across our 75 Standalone stores in India, 32 of those ones, received our limited edition of VERO MODA MARQUEE.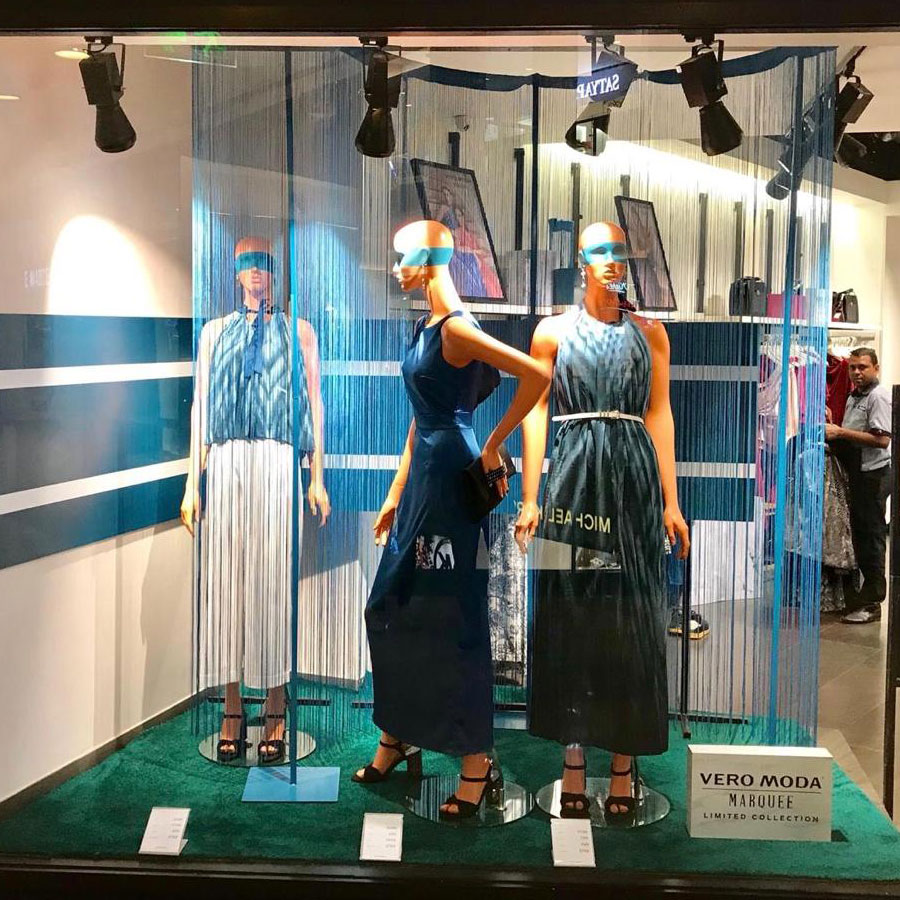 What were the elements that were used in the design? (like colour schemes, fixtures/materials, props used, lighting etc?)
In line with the current global display trends and the DNA of VERO MODA MARQUEE, I wanted to play with the idea of a strong and minimal approach but an elegant a sublime method, as done in the previous season. After studying the new colour pallet used and emerged in the fabrics and designs, I realized that a simplistic mono-colour display will take place this season.
Taking in consideration, that we were in Autumn Winter I could only use rich and darker shades that were in line with the collection's design and it was very easy to me, to land on a darker Blue Teal tone, as the key colour used for the waived free standing curtain string as the main background element and a fluffy and luxury carpet selected for the floor.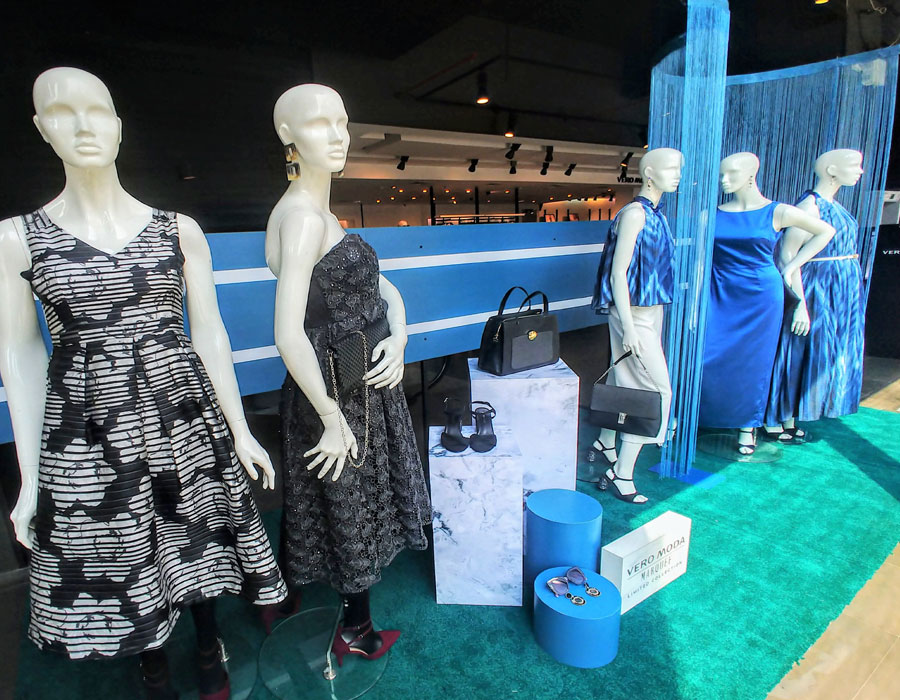 Regarding the fixtures used, I had to take in consideration that not all our windows, have the same format and therefore I had to adjust the concept to each space using different elements on them, as best fit the current window and the commercial strategy behind.
Overall the key elements designed and created for this concept were the waived free-standing string curtain, a blue teal panel border that was placed behind the same, divided with two white lines that was hang on the window walls, a set of podiums with different heights that were wrapped with marble foil used for accessories display and a carpet that enclosed the full space. Apart from these elements, we also covered our wooden bar windows with a textured foil in blue teal.
Any kind of challenges you faced while developing/executing the entire project? If yes, how did you address them?
While my team and I are very precise in planning and general breakdown of what fixtures and materials we want to showcase in our windows, this concept had a small challenge on finding the right tone of the blue teal, used for the curtain strings and the initial height of the treats were not satisfying to us. Once the same was addressed we could then focus on the selection of elements that were allocated to each store.
What was the budget for the window display? Is it possible to break it down?
Window budgets are never enough to achieve our dreams but I can't complain upon our delivery, as at the end game my thought process upon the creative design always involves potential costs of fixtures, materials and transportation. One can't create or design something without considering the costs of the same during the initial process as that can jeopardize and delay the timeline we have upon the Retail calendar.
Do you have a vendor partner for executing your in-store displays? If yes, who do you partner with?
The relation that I have, with all my network of vendors, is the base of my success if I can point out the same, as transforming a project from a design point of a view into reality comes with a tone of different steps and a lot of pressure for both sides.
Nevertheless, I've been blessed maintaining a strong bond with the Retail, Events and Design team at the BRANDMELA Group, based in Bombay (http://brandmela.com/) for almost 5 years. This partnership as allowed us to develop as professionals and deliver upon our targets in all the different projects that we collaborated and through the hand of their hard-working and self-driven Project Manager Mrs Hiten Rajput, we always raisin above expectations and to him and to all the BRANDMELA Group, I say Thank You for their constant support.