Smirnoff goes red & bold at Ordnance Club
By Nabamita Chatterjee | May 15, 2015
Located in Hastings area, the bar lures customers with its attractive and refreshing new look.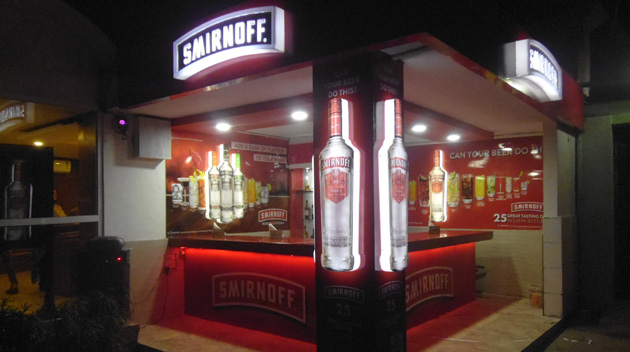 Ordnance Club in Kolkata recently unveiled an eye-catchy bar, where the brand Smirnoff takes over the space with its signature red colour. Executed by Excalibur, Kolkata, the brief from Diageo was to highlight the visibility quotient of their brand Smirnoff for this new outlet.
Debmalya Mitra, Director of Excalibur shares with P-O-P, "Our design team did the recce of the bar area, taking feedback from the club's management regarding their requirements and facilities. Following this, we designed the bar counter, keeping in mind the storage capacity of the area for any event as well as the brand visibility and lighting."
The approximate store frontage is 12ft x 10ft and the size of the external GSB is 12ft + 10ft x 2.5ft (H) and it is'L' shaped. "We used ACP cladding with acrylic raised logo and modular LED (Samsung) for lighting effects taking into consideration the electricity consumption. For the bar counter branding, the 4mm imported clear acrylic was deployed for creating the bottle raising with Latex print on 3M Vinyl. LED spot has been used for highlighting the rack and the delivery counter of the bar which is 52 sq. ft. We have also branded the wall inside the bar, where we have used strip LED for the glowing part."
Excalibur has provided turnkey solutions including signage, inside branding, lighting, furniture, painting, etc. for the total project, which was completed in 10 days approximately.
On a concluding note, Mitra shares, "Though there weren't many logistic problems for the project, the only thing we had to keep in mind was the schedule as the inauguration date was fixed before we started with the project, and the management was strict on that. With joint effort, we completed the job within the scheduled time and handed over to them before inauguration."