Store space centered around antigravity & fluidity
By Retail4Growth Team | May 26, 2021
Incorporating a futuristic theme with objects that seemingly defy gravity, as well as a playful approach to volume and shape, IEW.H's flagship store, designed by Kokaistudios, makes for an attention-grabbing addition to one of Shanghai's primary shopping streets.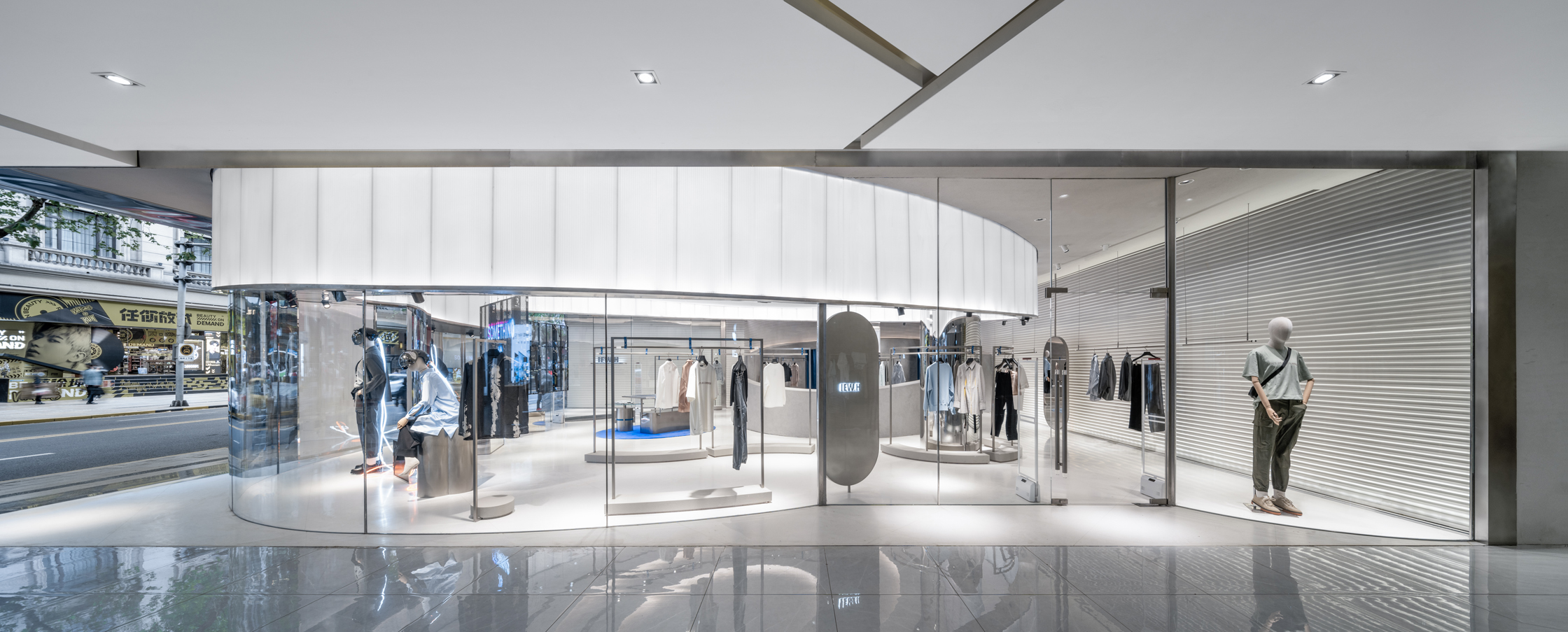 Fashion label IEW.H's 259 sqm flagship store in the heart of Shanghai, designed by Kokaistudios, is all about a futuristic brand concept transformed into playful design . The new fashion label's acronym stands for 'Infinite Explorer with Hypersense' and this was the starting point for Kokaistudios, which worked around the broad themes of antigravity, memory and fluidity for the multidimensional brand's statement interiors.

The design brief itself was clear : To creating an out-of-this-world retail space. Faced with this task, the design team created a striking frontage, incorporating unexpected materials, which draws shoppers into a space that takes inspiration from planetary rings. "Despite striking an unmistakably architectural tone, the store has been designed for flexibility, and can be readily adapted for future brand partnerships, pop-ups and events," says the Kokaistudios' statement. Since the fashion label will present twice-yearly collaborations with artists and designers, it was crucial that the space be kept versatile and neutral in terms of decor and color, according to Kokaistudios.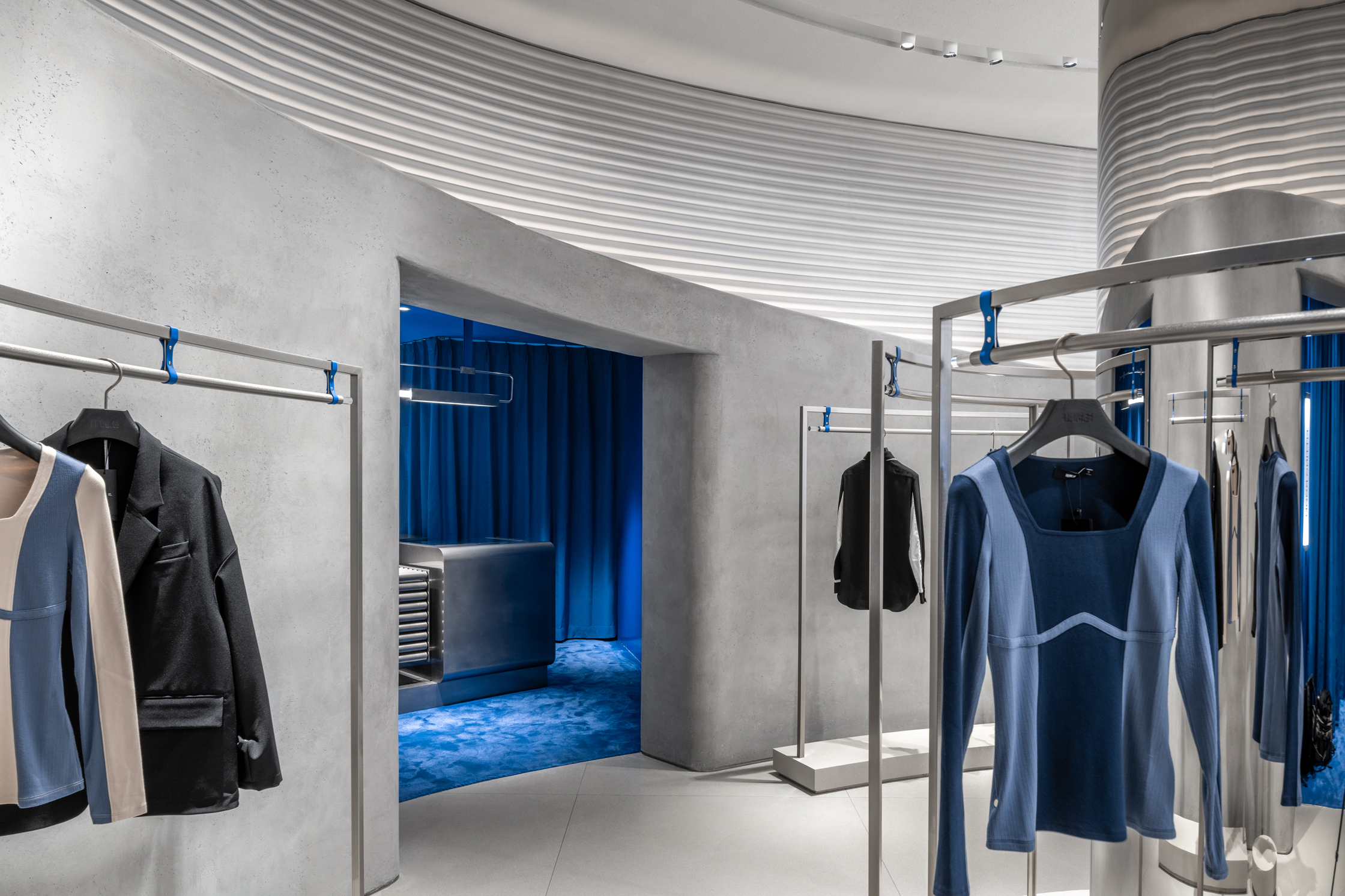 Located on one of Shanghai's principle shopping streets, Huaihai Lu, the IEW.H flagship creates impact both inside and out. A facade of glass and aluminum foam bulkhead creates an otherworldly effect from the outset, hinting at the store's futuristic interior. With organic-looking bubbles for an almost cellular appearance, the metallic material is backlit to create a glittering effect that is particularly striking at night. Below it, a recessed glass entrance is positioned along the smooth convex curve of the store's exterior. Appearing as a cylindrical object set back from Huaihai Road's otherwise standardized and flush storefront configuration, the shop immediately draws the attention of passers-by, providing ample space for window displays at the same time.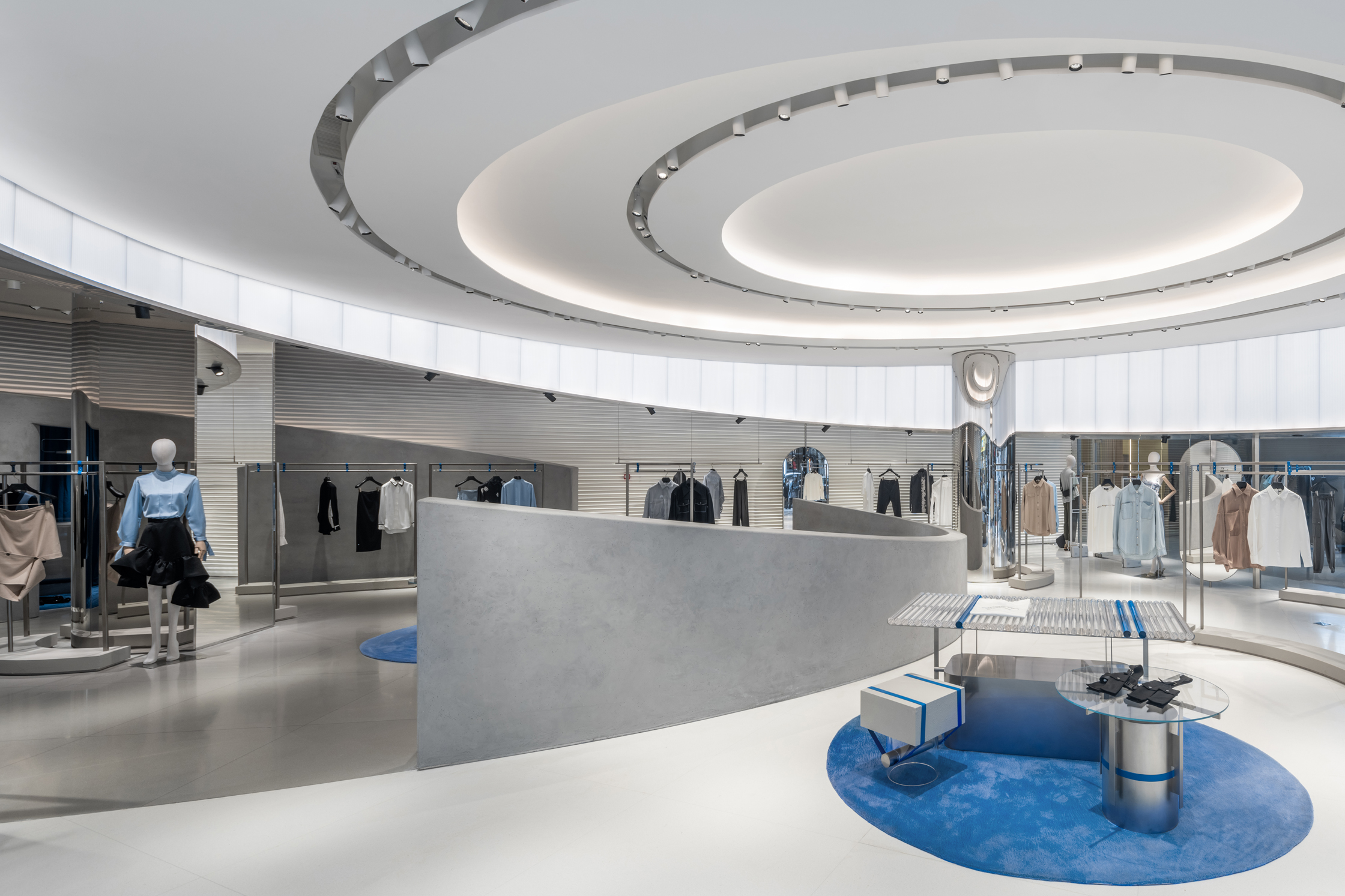 The strong visual impact continues inside, where elements of the store's core activities - its display counters, benches and racks - are positioned inside two interlocking rings. Illustrative of a broadly anti-gravity concept that runs throughout this retail design project, the larger of the two rings appears to float above shoppers' heads. Highly architectural, the polycarbonate structure is fitted with inlaid backlighting. A surrounding tapered stainless-steel band accentuates the spatial compression created by the ring's deliberate tilt.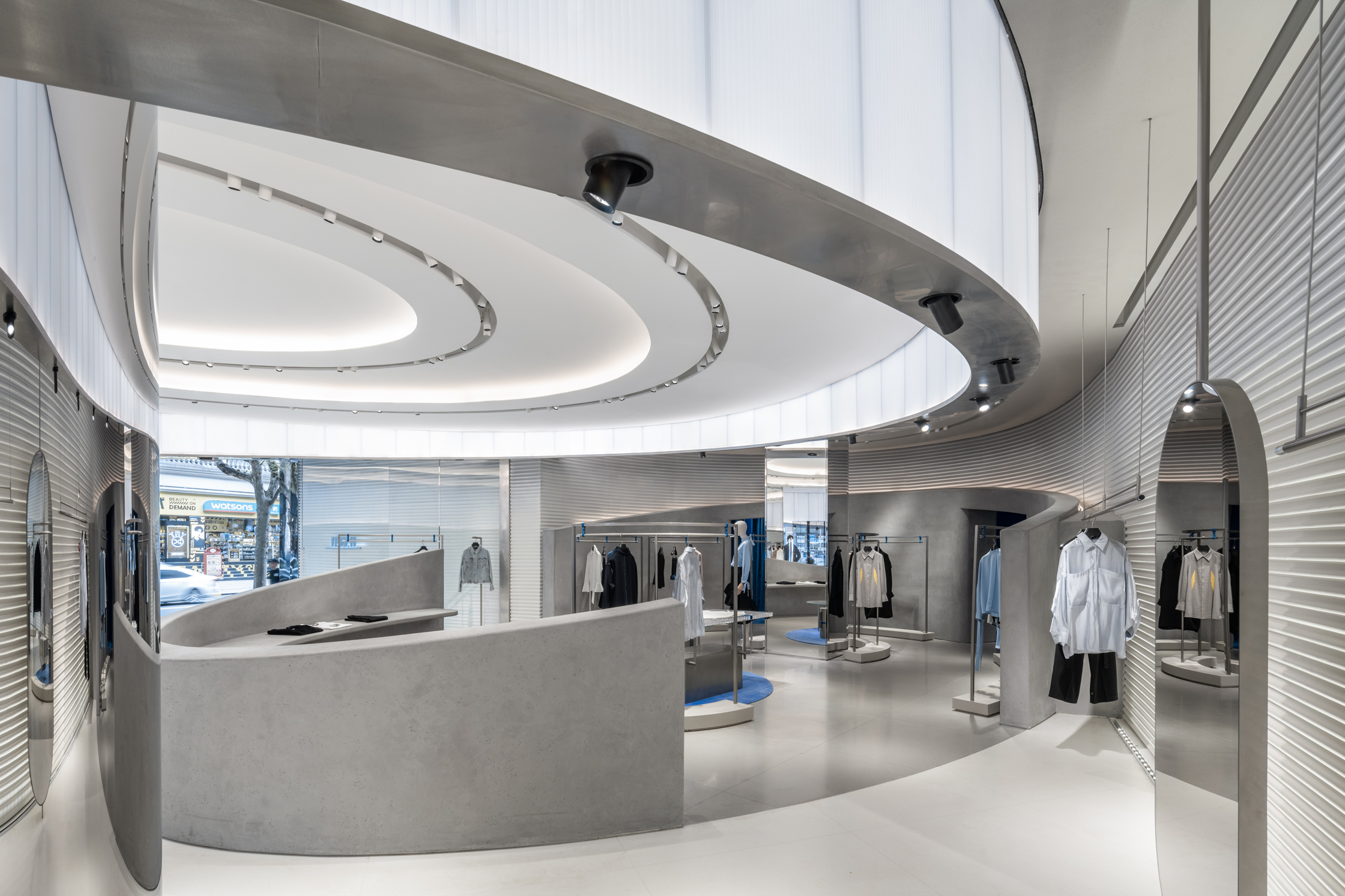 The smaller of the two rings tilts up from the floor, its lines extending downwards to create low walls indicating a separate volume. In contrast to the upper ring's seemingly weightless quality created by its polycarbonate material, the lower is finished in an altogether heavier textural plaster, reinforcing the design's antigravity theme. Contrast is further introduced by way of two tones of terrazzo tile flooring; as well as gradated wall color from white to cool grey, injecting a sense of movement into the interiors.
IEW.H's fitting rooms are accessed from the smaller of the two rings. In brand colors of electric blue and silver, the area makes clever use of the 270-degree mirror surfaces in each fitting room to create a kaleidoscopic effect of infinite reflections. This extends to a half-globe light which, thanks to the facility's reflective ceiling, appears as a floating planet or orb. In an adjacent side room also positioned outside of the interlocking volumes is a silver cashier desk, flanked by soft furnishings in that same deep blue tone.
Opening up possibilities for future events, the space within the interlinked rings remains flexible. Except for a table-height display ledge along the inside edge of the smaller shape, all display elements are freestanding. In keeping with the design themes of the wider retail project, they are curved to match the store's two main volumes, and in a playful touch, include tie-down straps in a nod to the outer space, anti-gravity theme.
Project information
Project name: IEW.H Shanghai Flagship
Location: Shanghai, China
Floor area: 259 Square meters
Design Time: Oct. 2020 - Dec. 2020
Date of completion: Apr. 2021
Client: IEW.H
Interior Design: Kokaistudios
Chief Designers: Filippo Gabbiani, Andrea Destefanis
Design Director: Ian Yu
Project Managers: Yao Yao
Design Team (alphabetical order by last name): Junyu Chen, Vivian Fang, Lu Peng
Photography: CreatAR Images
Text: Frances Arnold