Telenor goes green, uses recyclable material at retail stores
By VJ Media Bureau | Vjmedia Works | November 19, 2015
The brand adopts bio-degradable fabric and ink to create collaterals that can be reused instead of being burnt, which causes environmental harm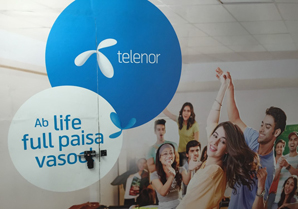 Keeping its promise of cutting down on carbon footprint, Telenor India, in an industry first, has adopted green branding at two of its retail stores. The go green branding was piloted in Dehradun and Mussoorie. This initiative will ensure proper waste management of branding material like Flex & PVC, which is not bio-degradable and emits toxic fumes when burnt. All the material used in creating branding collaterals like fabric and printing ink is eco-friendly and helps in eliminating all waste that is detrimental to the environment.
"Progressive and smart companies use their environmental strategy to innovate, create shared value and build competitive advantage. At Telenor India we choose to be one step ahead and introduce'Go-green branding' in exclusive branded stores. This is in line with the Swachh Bharat Abhiyan of the government and will contribute towards a clean and green
India. This also reflects a perfect balance of social responsibility & eco friendliness," said Upanga Dutta, Chief Marketing Officer, Telenor India.
According to Telenor, the green branding supports the climate protection program adopted by the brand and further strengthens the commitment towards the new UN Global goals of protecting the environment. By fostering this green initiative, Telenor India aims to create a key differentiation in the market and set itself apart in the hyper-competitive telecom industry. Through this initiative, it will not only reduce the carbon footprint but also increase awareness for on environment friendly practices among the sales partners and customer.