What's the buzz in store for trial rooms?
By Satarupa Chakraborty | January 10, 2019
The launch of Amazon Go has possibly made every retailer want to redefine shopper experience in store, particularly in the context of queues and trial rooms. In India, even as the experiential boom in the brick and mortar space kicks off, queues particularly in the trail room space, are a big factor to reckon with. But there are some interesting trial room trends happenings across the retail space. Here's a recap.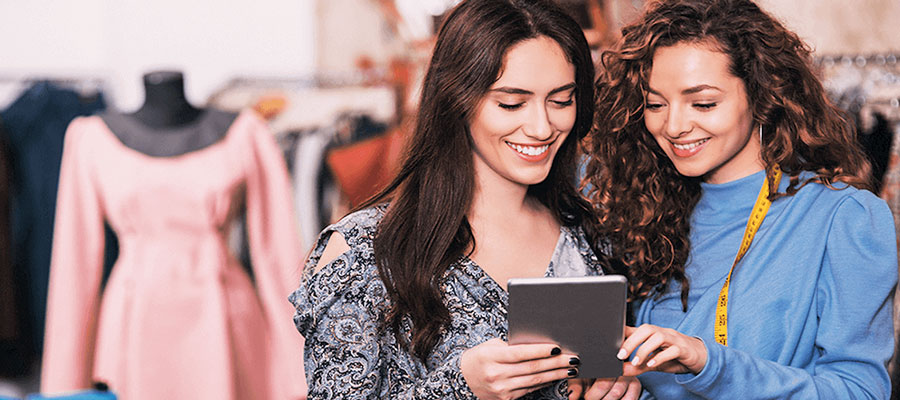 Dick Larson, the MIT professor who is also known as Dr Queue in his innovative study on queue management made a shocking revelation – every American spends almost 2-3 years in his/her waking life on a queue. He also suggested back in 2011 that every queue is a business opportunity and that every queue poses a challenge.
Larson's observations couldn't be truer in today's brick-and-mortar retailing space. In high footfall situations, trial room is that touchpoint which manages not only the most dense traffic, but also presents the most unutilized branding opportunity.
But surprisingly, almost no retailer, especially in the fashion category, seems to be pushing impulse buys, brand promotions or visual merchandising schemes at this touchpoint. Even in some of the re-crafted IDs, more square feet are dedicated to trail rooms or visual aesthetics, rather than focusing on resolving consumer hassles or having a better queue management system in place. However, the silver lining is that some of the retailers are waking up to the possibilities that the trial rooms present. Here are five trends that revolve around bettering the trial room experience for the shopper.
Virtual trial rooms
This trend is definitely catching up, but more as a gimmick touchpoint, rather than for better queue management. Interestingly, a number of mono brands like Jealous 21, Kraus Jeans, Chennai Silk, Palam Silks, 612 League, Being Human etc are installing virtual trial screens in their select stores. Ideally these should have a complete inventory of merchandises so that customers can see themselves in any of the chosen products on the screen, without having to physically try them on. In fact, it also should function as an Endless Aisle concept. However, it's working a tad differently in India. These trial screens often work with hand movements/gestures to enable a few merchandise trials, while doubling up as screens to promote brand communications, campaigns etc.
Well, there are certainly some gaps in the technology applications, but the good news is that there are a few start-ups working in this space, developing the concept further, companies such as Coitor, Shopsense, Torchsight and Virtu AR, to name just a few.
So how are these technologies evolving to go beyond being mere gimmicks? Siva Rajendran of Coitor, says in this context, "Virtual trial rooms are already a hit in e-commerce. This kind of products have so far been perceived as gimmicks because we have not yet achieved the right solution. We are working further on a 3D concept that will offer more recommendations on shapes, sizes, fall of the garment etc., basically it will revolutionize in-store trials."
Another NCR-based start-up Virtu AR, which recently installed similar screens at the Tom Tailor store, has some reassuring data to share – the store received a footfall of 1000 people just during the weekend, out of which almost 30% tried the merchandise. Well, it may not have minimized the trial room hassle, but it's a great tool to map footfall and improve sales conversion.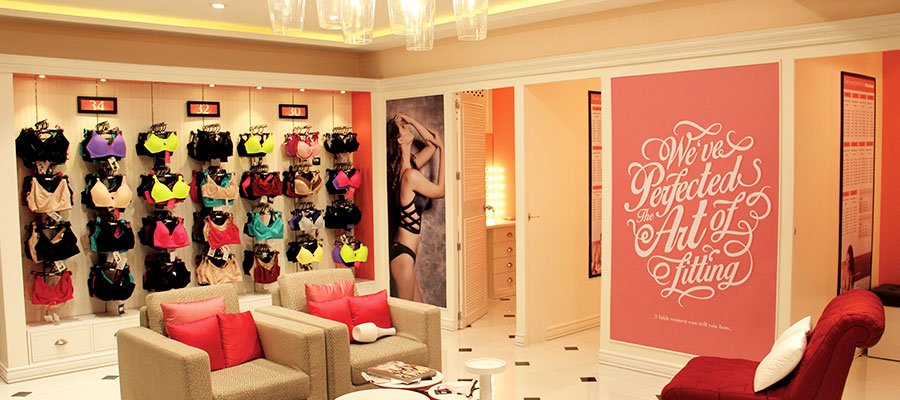 Personalization
This is another interesting trend. Imagine you reach your favourite brand's store and your coveted look is already lying at your closet..err..trial room? Welcome to another new trial room experience. The fact is that with omni-channel being the latest buzz word in retail, brands are honing their ability to switch effortlessly between online and offline. And interestingly, since online brands seemingly have a better edge in terms of shopper understanding, they use the knowledge to offer personalized options for their customers at the brick and mortar space as well.
In a multi-brand or large-format set-up, customers often get overwhelmed by the choices and miss the personalized attention that can help them take better buying decisions. In the past, we saw premium mall properties such as Select Citywalk introducing conveniences like personal shopper services. But pre-booking a look even before you arrive at a shop is still uncommon in India, except in the case of certain luxury and couture brands.
Now Bangalore-based tech startup Network Bay has come up with a unique IOS platform Tulip which enables personal shoppers to greet customers and guide them through the store through a hand-held devices. These devices store personalized data like order history, preferences etc.
Though very few brands are waking up to this call-for-action on personalization, some premium brands such as Van Heusen and Louis Philippe have already included such services in their recently re-crafted retail IDs.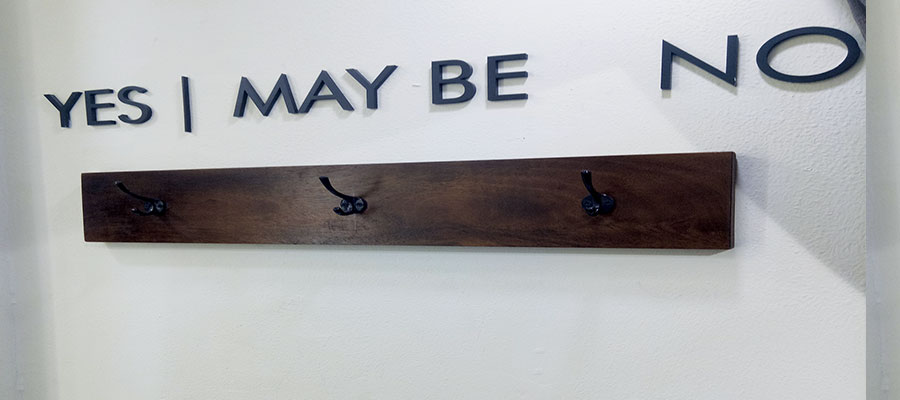 Staff Assistance
This one is particularly useful for harried shoppers with little or no time. Shoppers often carry wrong sizes or merchandises to trial rooms but cringe at the thought of going back to the long trial room queues. To help shoppers beat this problem, Lifestyle International recently introduced the digitally-assisted trial rooms at around 25 stores. This facility lets the shopper use a pager-based system to notify store staff to bring alternate style for trial. The retail brand is now taking this service to all of their metro location stores.
Lingerie retail in particular is evolving faster as far as this trend is concerned as sizing and therefore personalization is a key point in this choice of retailing. European lingerie brand Hunkemoller is already using this technology for shopper convenience notifying store staff at select stores. Interestingly, many lingerie brands are also opting for trial rooms when it comes to promoting their brand communications, campaigns and product information. For example, we have Zivame and Enamor who have used digital screens at trial rooms.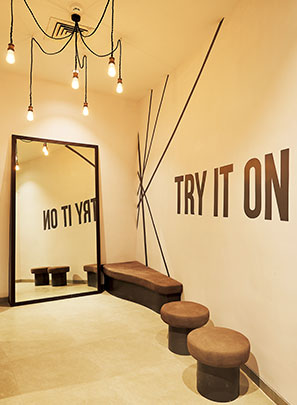 Lighting up the experience
Lighting is another distinct factor when it comes to trail room differentiation. As shoppers seek a more authentic trial room experience, day light seems the preferred light setting in the trial rooms. So even as 3000k rendering yellow light experience was the preferred choice for luminaires and saree and jewellery categories still prefer yellow, apparel and fashion have moved to 4000k to match white or daylight.
However, Amit Sheth, Managing Director, Plus Light Tech, shared in this regard, "Retail has failed to understand some of the basics of lighting and trial room lighting. No matter how crucial it is, it unfortunately is still a grey area. Trial room lighting should always be vertical from the side of the mirror and should not create any shadow. Retailers still tend to believe that ceiling light is the best option for trial areas."
But these perceptions notwithstanding, lighting vendors of the country are playing with some of newer technologies to bring better experience to the trial rooms. Recently we had Gardler bringing in a remote-controlled fixture, which can be operated by the shopper to be able to see their image in different colours, temperature and ambience. "When we launched around 3 years back, the price-point was intimidating. As technology grows, pricing can be controlled and we have seen some renewed interest in this product," says Shankar Natarajan, CMD, Gardler Lighting.
Well, it certainly looks like the trial room is set for a lot of action.
Re-thinking the trial room experiences: From the world Retailers
Nike : At their latest "House of Innovation 000" New York City store, a NikePlus Member can scan a code on an in-store mannequin, browse every item that the mannequin is dressed in, check to see if specific sizes are available in-store and then request for a store athlete to send the items to a fitting room.
Zara : World's leading fast fashion brand Zara, during their revamp process at their London flagship earlier this year, opened a much smaller pop-up, which offered only click-and-collect service. The pop-up concept caused such a stir that the Inditex brand announced that it will open more such stores in other locations.
Nordstrom : In their first men's only store in NYC, Nordstrom used AR tools to project the shopper's image onto store mannequins, even before trying out an apparel.
Sephora : Multibrand make up retailer Sephora uses several digital tools and virtual artist app for many of their global stores. Other beauty retailers like Target, Estee Lauder and L'Oreal have successfully used apps and AR gears to witness stupendous sales growth in their stores.