A Mega Retail Experience!
February 22, 2016
VM&RD brings to you the inside of the concept design and project from Mrs Pushpa Bector, EVP, Head, DLF Mall of India.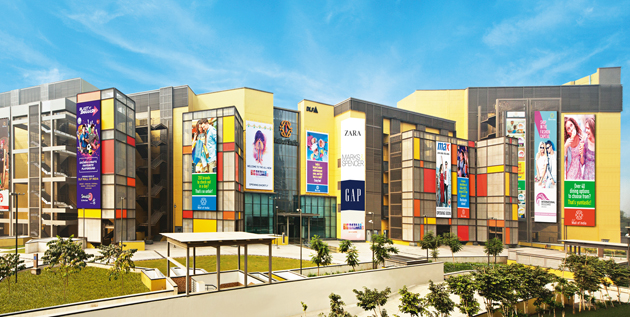 DLF Mall of India, India's largest and truly mega retail destination, is already compared with the league of world renowned destinations like BurjKhalifa and Dubai Mall in Dubai; Madison Square Garden and Yankee Stadium in New York etc. in terms of world-class experience.
Two million square feet of retail space, 450 retail units, 350+ brands, 40% of space dedicated to international food and entertainment and parking for 3500 vehicles help make this destination. The mall is configured with different retail categories zones on each level, all clearly overlooking a Racetrack Atrium and connected with 75 express escalators and revolutionary travellator, all housed in a green certified building. The mall is designed and project managed by renowned international talent. VM&RD brings to you the inside of the concept design and project from Mrs Pushpa Bector, EVP, Head, DLF Mall of India. Edited excerpts.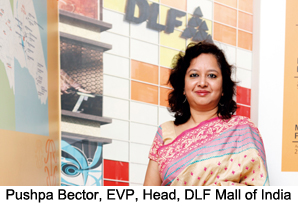 What was the thought behind the biggest mall of India?
At DLF, we are committed to delivering world class retail experience and quality solutions across by not only matching but improving on the customer expectations by bringing best in class concepts and retail experiences to customers. The thought behind this marquee project, the largest destination mall in India, was to give Delhi NCR its first destination mall, and bring international shopping, dining and entertainment concepts to deliver an unparalleled experience to consumers. This would also be a world class platform for many national and international brands to make a debut in India with their new concept stores.
What kind of differentiated retail experience is planned for your customers?
It is the first time in the Indian retail scenario that a mall is introducing the concept of concept'Zones' and hosts 350+ brands, 80+ Brand Kiosks across international and Indian brands and retailers. A dominant food and entertainment zone will occupy a massive 40% of the space. In fact, the mall is bringing international gaming concepts in India for the first time and is going to attract a lot of interest as well as footfalls. A great Tenant-mix ensures that it is inclusive to the needs and wants of all age groups for shopping, dining and entertainment.
What are the key design aspects of the Mall?
DLF Mall of India is a themed mall with five segregated zones namely: Market Place, International Boulevard, The High Street, Family World and Leisure Land.
The Market Place located on the Lower Ground level, houses the best of hypermarkets and furnishing options.
The International Boulevard located on the Ground and First level features a bevy of international fashion labels flaunting double height flagship stores.
The High Street on the third level presents a selective portfolio of renowned Indian designer labels and handpicked premium high-street stores of India making it a destination for special occasion and wedding shoppers.
The Family World on the level above hosts a vibrant kids zone and a selection of 23 casual dining options.
The Leisure Land located on the topmost level, offering an iconic food and entertainment zone, is set to be the largest indoor entertainment destination in India featuring 7 DT star screens with 2000 seating, an ice skating rink and a 1000 seater Food lounge offering 20 global cuisine options. Added to this is a sports bar and an international gaming concept with an indoor themed park.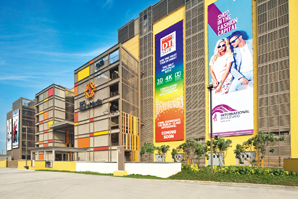 What is the tenant appearance strategy in the context of the new age customer expectations?
Consumers' aspirations have changed and they prefer buying products from brands and designs that are trending. Brands are renovating themselves and are adding elements that they feel are appealing to the consumers and connect instantly. We are working towards making this mall a perfect platform to host the country's best and most awaited launches - be it in the international or domestic segment. In fact, most of the brands are introducing their new format stores giving customers a first-hand experience of the new concepts. We are also enabling the mall with the latest in tech infrastructure to host digitization of customer experience and promotions in the mall.
What went behind the concept design and build of this mammoth mall?
Unlike the other projects by DLF which have been design controlled by the Delhi Development Authority, DLF Mall of India is entirely planned and designed by the renowned international Agency Benoy, which is an award winning firm of architects, master-planners and interiors experts, known for delivering marquee projects like ION Orchard - Singapore, Ferrari World - Abu Dhabi and Westfield London. International firm Turner were commissioned for the project management of the entire build and fit-out.
The DT Star Cinemas in the Leisure Land zone are designed by international designers Mesbur and Smith followed by the food court, the EAT Lounge, designed by another reputed designer firm, Varney Designs.
The mall design and build also follow'Green Design' principles that minimize the carbon footprint of the building. This complies with Ashrae 90.1 standards and is the country's first LEED Gold certified mall. The mall is equipped with energy saving devices like intelligent air-conditioning, unique energy saving features and international best practices in Fire and MEPs design by Peer, another international agency. To render the mall digitally smart, Digital Video Walls, Digital Directories and smart Mobile apps with an integrated navigation system have been installed.
Related Viewpoints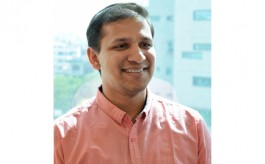 Executive Director, Madame
'Retail design solutions have to tell richer stories, create bolder experiences' : Akhil Jain, Executive Director, Madame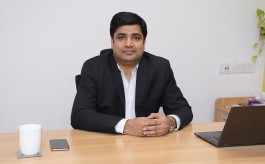 COO, V-Mart Retail Ltd
Small town India will spur organized retail growth : Vineet Jain, COO, V-Mart Retail Ltd