Meghdoot expands point-of-purchase display business with HP
By Bhawana Anand | Vjmedia Works | December 24, 2014
Meghdoot is the first company in India to install the HP Scitex FB10000 and also the first company in Northern India to deploy the HP Latex 3000 printer at its premises in New Delhi.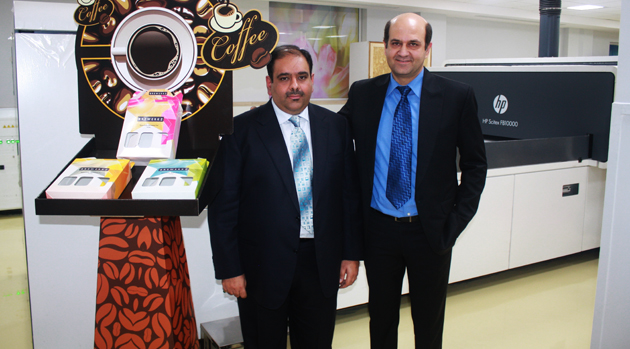 Meghdoot, a leading corrugated shipping cartons manufacturer announced its entry into signage and POP display industry with HP Scitex FB10000 Industrial Press. Meghdoot is the first company in India to install the HP Scitex FB10000 and also the first company in Northern India to deploy the HP Latex 3000 printer at its premises in New Delhi. According to the company, the idea behind investing in this machine was to enhance production efficiency and grow their business.
"Brand managers and marketers in India have to constantly stay ahead of the market dynamics in the in-store signage and POP displays. They are demanding advanced POP solutions which can best meet their needs of colour accuracy, consistency and high quality while being affordable at the same time. Responding to these customer needs and evaluating the vast market opportunity with corrugated POP displays, we decided to install India's first HP Scitex Flatbed 10000 Industrial Press at our new facility in New Delhi," said Rohit Kapoor, Executive Director and CEO, Meghdoot.
"Latex is a new technology in India and has evolved for us India. We have the highest market share in the world. We started this year with 5.5 per cent of profit share and today we are close to about 48.9 per cent, so it has really worked for us. On the flatbed side, it is a new technology; we have been there in the sign and display industry but corrugated is a new technology and packaging is a new market for us," said Puneet Chadha, Director, Market Development, Graphic Solutions Business, HP Asia Pacific and Japan.
Although the machine has been introduced in India for the first time, HP Scitex Flatbed 10000 has got great response from international countries. "We have seen that a lot of our customers have gone ahead with a second machine too. The moment you start getting few significant campaigns, then you need another one. People who are in this business are adapting this machine very rapidly. We are hoping that this trend will follow in India as well. We are already seeing engagement with brand and brands are getting excited about this. This is a first week for us, so it is a journey", added Puneet.
"The HP Scitex Flatbed 10000 Industrial Press offers flexibility both in terms of size and speed as well as supporting the wide variety of applications and range of media. The POP display applications, while being superior in quality, are highly affordable and apt to meet the brand's creative needs. We are all set to disrupt the dynamics of the POP display market in the country", Rohit added.
With the recent installation of the HP Scitex FB10000 Industrial Press, Meghdoot will address the need for digital production of POP graphics and corrugated display in the market which is currently challenged by analog production methods. The company will benefit by offering superior production efficiency, advanced automation, shorter runs, faster turnaround time, and serviceability for high-quality and high-volume production. With the flexibility to experiment with varied shapes and sizes, it will be easier for Meghdoot to take on more jobs, expand opportunities and increase profit potential.
Along with this high-tech and eco-friendly machine, the company has invested in creative tools, developed a creative director's team and bought virtual software to provide complete solution to their clients. "We picked up few ideas from international countries and few ideas which brands have shared with us. For instance, one customer kept the product beside the aisle & shelves, and used to see how is it going to look like. So I wanted to create the same experience, where we found that this software is a better way of doing it with much better experience," explained Rohit.
According to Meghdoot, there won't be any added cost for utilising these services for brands, as the more value-added services you provide to customers, the more comfortable is the customer with you. "We have invested in creative tools so that we can give the agency model as well and not just produce a product. We have the expertise to provide back-end services which normal single point agencies can't provide", articulated Rohit.
The HP Scitex FB10000 Industrial Press machine comes with special software called HRD technology which helps in giving the colour quality more than standard machine dot size. "From a packaging and display unit whatever is looked with closer eye, the quality of that product has to be amazing because it is a marketing message which you are giving a customer and attracting his eyes. From printing front, regular dot size picoliters and most of the machines work on a standard dot size. There are challenges with regular dot size in terms of qualities which are not as solid and vibrant as they should be. On the other hand, there are variable colours and their tones are not as the way we see. HDR technology has three variables dots. In this, the image is recognised by the printer and the printer automatically sense what kind of dots should go there. There was a requirement of this kind of technology which is why this has become very successful in corrugated segment", explained Puneet.
"Retail marketers in the country have been increasingly demanding for affordable yet best in class POP solutions without compromising on brand creativity. "The HP Scitex FB10000 Industrial Press from HP will help our customers like Meghdoot deliver exactly that to their customers, thereby helping them stay ahead of the curve in a highly competitive market", summed up Puneet.