Consider this gap as a chance to step back and evaluate : Vishal Singh
By Mohit Manghani | April 01, 2020
Governments, businesses and communities are facing the brunt of coronavirus pandemic. As COVID-19 impacts more people every day, most sectors of the economy have been reduced to a standstill.

So what's at stake for the Retail Industry, how much of it will be hit? Vishal Singh – Founder & Managing Director, Vizion Lighting Pvt. Ltd. shares his take on the future of retail, measures taken to fight pandemic and much more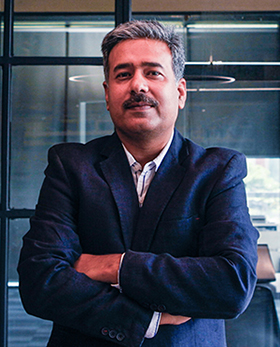 How do you foresee the next few months' business-wise?

Thankfully, as of now, the COVID-19 pandemic has not impacted India in the manner it has afflicted other countries. However, the preventive measures put in place have made an economic slowdown inevitable. This should only strengthen our resolve to practice social distancing and work towards restricting this outbreak. In terms of business, the global economy is heading towards a rocky second quarter in this financial year, as the pandemic has affected several sectors and avenues of businesses.
Any plan B in place?

All physical meetings, site visits, and consultations have been temporarily canceled. Instead, we have advised our employees to work from home and have enabled online modes of communication, ensuring that our work doesn't come to a halt while prioritizing the well-being of our employees and our clientele.
Any specific measures you have put in place for business continuity & employee welfare?
Yes. Our first measure has been to ensure that our clientele has been apprised of the current situation as well as to ensure that our employees don't have to commute. We have implemented remote working and are also taking this time to invest our resources in ideation and research, which will be conducted remotely, so we can hit the ground running and meet consumers' needs when the situation improves.
Do you see this crisis changing the way the whole retail industry will function, moving forward?

While we have been experiencing robust growth in the e-commerce sector, we will also be seeing the introduction of other platforms for designers to showcase their products. We also anticipate a resurgence of interest in workspace design, but at a smaller scale — where individual users looking to create their own niches and nooks that can double as remote working facilities when need be. These trying times are also giving us the opportunity to step back and evaluate our way of work and life, away from the daily grind. We anticipate the emergence of wholly new lifestyles as a result, when the situation stabilizes.