Covid-19 Impact : 'Online retail will witness the positive impacts of the crisis' : Ramesh Bhandari
By Mohit Manghani | March 27, 2020
Governments, businesses and communities are facing the brunt of coronavirus pandemic. As COVID-19 impacts more people every day, most sectors of the economy have been reduced to a standstill.
So what's at stake for the Retail Industry, how much of it will be hit? Ramesh Bhandari, Director, A-Class Marble India Pvt. Ltd shares his take on the future of retail, measures adopted amid coronavirus scare and much more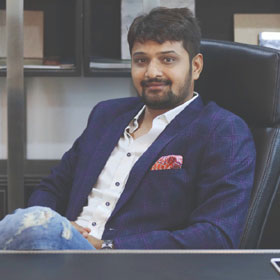 How are things looking now? How do you foresee the next few months business-wise?
Currently, the situation is bleak with the pandemic already having a devastating impact on organizations of all niches and industries. With the active steps undertaken by the Government of India to control the situation, we are planning on following these instructions and shift our business's communication mode to digital or through virtual modes, rather than in person. The next few months are bound to be on the slower side in terms of the business functioning, although we hope that this is a temporary situation.
Any plan B in place?
Presently, the goal is to maintain the safety and health of the people around us, we have already temporarily suspended all on-field operations of our business and will be available for communication or queries digitally, so that we can maintain social distancing.
Any specific measures you have put in place for business continuity/clients/employee welfare?
We have adopted a work from home strategy, to maintain social distancing amongst our employees and customers, ensuring that we act responsibly towards the situation and keep in mind the welfare of our employees.
Since an economic recession is expected, how do you see your industry getting impacted?
The AEC (Architecture, Engineering, and Construction) industry alongside the interior design domain are expected to suffer a rapid decline due to the current pandemic, with real estate already suffering, the economic situation is expected to worsen under the current circumstances. We hope the government introduces more measures that help us navigate the choppy waters.
Do you see this crisis changing the way the whole retail industry will function, moving forward?
Yes, I think with this crisis the outlook of how our businesses will function has dramatically transformed, with a greater focus on shifting to a virtual or digital platform rather than operating physically or in-person, e-commerce or online retail will witness the positive impacts of the crisis.