Govt issues new norms for e-commerce marketplaces
By Retail4Growth Team | December 27, 2018
The new guidelines issued by the Department of Industrial Policy and Promotion (DIPP), applicable from February 1, 2019, prohibit online retailers from offering deep discounts and cashback schemes, among other norms.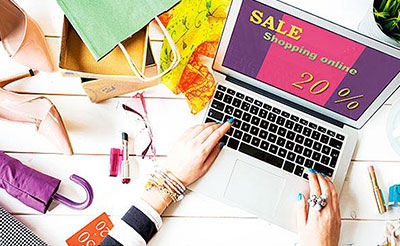 Flipkart's Big Billion Day or Amazon's Great Indian Festival Sale will soon be a thing of the past as the government on Wednesday put an end to deep discounts, cashback schemes and exclusive sales offered by the online retailers.
The Department of Industrial Policy and Promotion (DIPP) issued a set of guidelines on Wednesday, which, among other things, bar e-commerce marketplaces from selling products on the platform in which they own stake. The Commerce and Industry ministry has also banned ecommerce companies from entering into exclusive deals to promote brands.
"An e-commerce marketplace entity cannot mandate any seller to sell any product exclusively on its platform only," the government said.
Online retailers will now have to furnish a certificate along with a report of statutory auditor to Reserve Bank of India (RBI), confirming compliance of these guidelines, by September 30th every year for the preceding financial year.
The new norms have come into force in order to provide clarity to Foreign Direct Investment (FDI) policy on e-commerce sector. The new framework will be applicable from February 1, 2019.
As per the new rules, 100 percent FDI under automatic route is permitted in marketplace model of E-commerce, but the FDI is not permitted in inventory based model of e-commerce.
This clause will be a big blow for Walmart's $16 billion acquisition of Flipkart and Amazon's $5 billion bet on India, according to industry sources.
According to the new norms, e-commerce entity providing a marketplace will not exercise ownership or control over the inventory i.e. goods purported to be sold. Such an ownership or control over the inventory will render the business into inventory based model. An entity having equity participation by e-commerce marketplace entity or its group companies, or having control on its inventory by e-commerce marketplace entity or group companies, will not be permitted to sell its products on the platform run by such a marketplace entity.
"Inventory of a vendor will be deemed to be controlled by e-commerce marketplace entity if more than 25 percent of purchase of such vendor are from the marketplace entity or its group companies," said one of the new clause.
Besides, DIPP clarified that e-commerce entities or marketplace in which they have a direct or indirect equity participation or shared control have to provide services to vendors on the platform at arm's length and in a fair and non-discriminatory manner.
"Such services will include but not limited to fulfilment, logistics, warehousing, advertisement/marketing, payments, financing etc. Cashback provided by online retailers should be fair and non-discriminatory," DIPP said.
Snapdeal, Co-founder Kunal Bahl welcomed the new DIPP policy. "Snapdeal welcomes the new FDI policy on e-commerce. Marketplaces are meant for genuine, independent sellers, many of whom are MSMEs. These changes will enable a level playing field for all sellers, helping them leverage the reach of e-commerce," he tweeted.
The DIPP's move comes as a big relief for brick-and-mortar retailers, which have had a longstanding grievances against online retailers for offering deep discounts and cashbacks in order to win over customers.
Similar News
A snapshot of the changing face of Indian e-tailers
Launched in Bengaluru, the project will serve as a competition to its multi-national rival Amazon
Online retail major to compete with German firm Metro AG and Nandan Nilekani-backed Power2SME
Clothing has been the most purchased physical product in recent years in many countries across all regions, including the UK, Russia, China, India, Spain, Italy, Turkey and Mexico.
Good living is fast becoming a necessity for young and ambitious India. The furniture and homeware retailers are relentlessly scaling, updating and improving the retail channels to cater to this section. As the country ushers in the festival of light, VM&RD throws the spotlight on some of the leading home improvement retailers and how they are penetrating rapidly into Indian households.