LPFLEX launches sanitization tunnel & kiosk
By Mohit Manghani | May 08, 2020
Taking the battle against COVID-19 to a new level, LPFLEX, India has introduced sanitization units for tunnel and Kiosk to prevent spread of the virus. The structure can be installed at entrance/exit area of retail stores, industries to sanitize individuals who walk through it.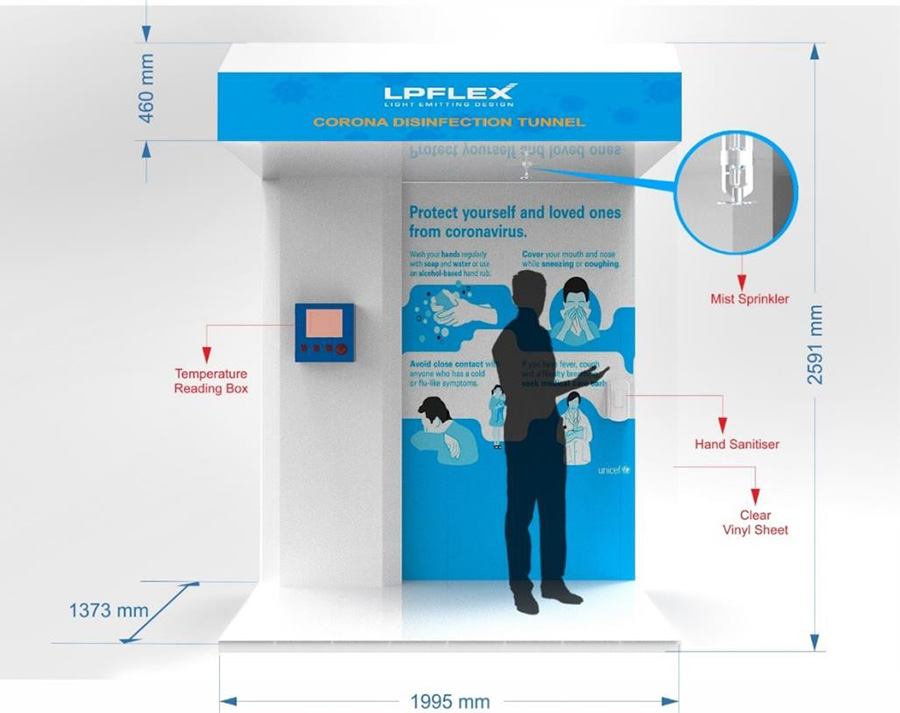 LPFLEX, full-service supplier of innovative branding solutions, has set up a disinfection tunnel & kiosk to contain the spread of the virus. The easy-to-install passageways can be installed at hospitals, retail stores, industries to improve the hygiene of employees, workers and society at large.
Speaking about the innovative solutions, Amit P. Kapani, Sewak, LPFLEX Sign System India Pvt. Ltd. says, "The COVID-19 situation is unprecedented by anything we have seen in the past 100 years or more. However, today innovations and new business models are being developed for the greater good of society. We are blessed with a team that have come up with a 100% Touchless Sanitization Kiosks and Tunnel to fight the Covid19 at the community level, thereby breaking the chain. People in the frontlines of this pandemic require best in class solution to contain the spread. Our units will provide wet free decontamination and sanitation for an individual."
The indigenously-built kiosk is 3 meters in length, 1.6 meters and 2.7 meters in breadth and height, respectively. Built on galvanized steel and Polycarbonate corrugated clear sheet, which is resistant to most disinfectant solutions, the product has been built in a relatively short period of time.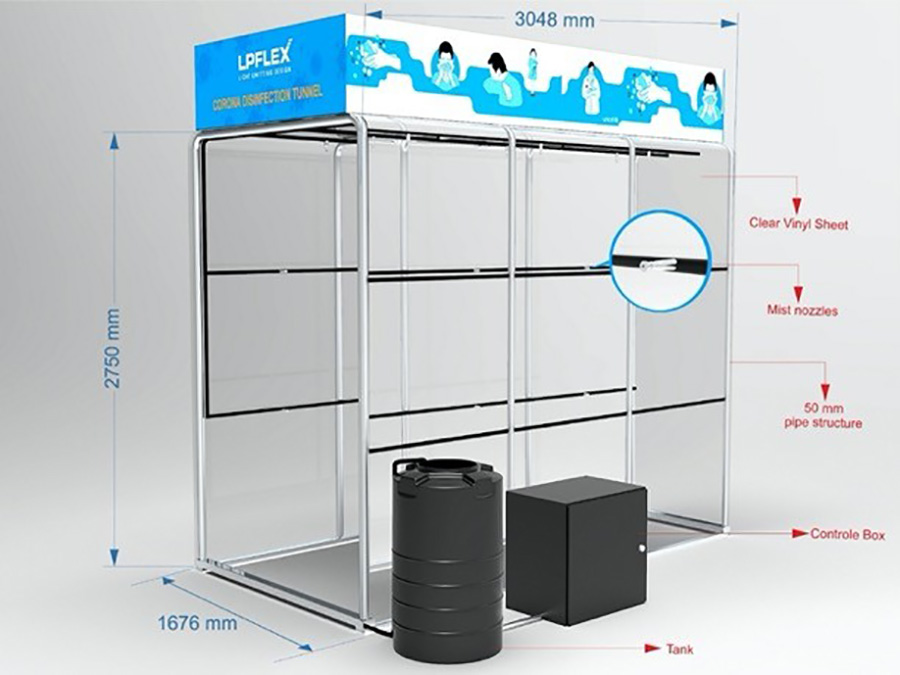 "Our team came with this unique idea just before the lockdown and the system was designed by end of March. However, we wanted the advice of healthcare and relevant government officials to move ahead with manufacturing. We have to thank our advisors and the officials for their quick responses and feedback. Coming to price, we are selling it at-cost as it is a necessity for the society at this juncture," explains Amit.
Sharing some unique highlights about the compact, easy to install structures, Amit emphasizes, "We have specially designed Nozzles to ensure water is saved through the use of misting sprays and most importantly automated on/off sensor for regulation; with this water is not wasted. We have provided exclusive branding opportunity inside/out and on the top of the kiosk, which will lead into brand recall and hence amortizing the cost."
LPFLEX is also working on manufacturing PPEs especially face shields for corona warriors in a bid to extend support to the frontline warriors. Amit underscores a few challenges that the team encountered during the development stages, "Procuring of materials became a major challenge during lockdown as we had unique designs which were to be made in the knockdown structure or in better work – Plug & Operate system. Our next challenge was in terms of market acceptance of the product. We shared our designs with our clients who were happy to get tunnels deployed in their locations at the earliest. In addition, our clients gave us feedback which was invaluable in improvising our products in keeping with the true spirit of partnership that evolved during this crisis."