Retail: Discretionary spends in recovery mode
By Dinesh Jain | October 13, 2016
Future Group\'s Central and Brand Factory, Aditya Birla\'s Pantaloons, Trent\'s Westside and Shoppers Stop have posted good sales growth numbers in the past few quarters
Rahul Shinde, managing director, KFC India, is a happy man. After 11 quarters of a decline in sales growth, KFC, one of US-based Yum! Brands popular fast-food chains in the country, has reported a 13 per cent sales growth for the September quarter.

"Over the past 12 months, we have focused our energies to restructure the business, decode our core consumer proposition and reset strategy utilising our strengths," says Shinde.

Group firm Pizza Hut also reported six per cent sales growth for the period under review after 11 quarters of decline. Analysts are interpreting the sales turnaround in KFC and Pizza Hut, among the worst-affected quick-service restaurants (QSRs) in the country over the past two years, as a clear signal of discretionary spending making a comeback. The forecast for listed companies such as Jubilant FoodWorks and Westlife Development remains positive for the September quarter and beyond.

Kishore Biyani, chief executive officer, Future Group, says, "Consumers are coming back and this is becoming apparent in retail spending. Fashion, food and cinema are manifestations of this consumption uptick and my sense is that it will continue to grow."

Nielsen's quarterly consumer confidence index for India bears this trend out. While the index for the June quarter dipped by six points over the March 2016 quarter to 128, it was still way ahead of the global index of 98. Nielsen had said this was mainly due to the largely positive sentiment towards the market in general, which meant even if there was a temporary blip in sentiment, it would pick up in the coming months.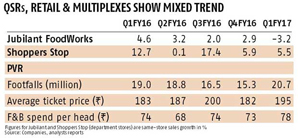 Some retail chains have already begun seeing signs of green shoots. Future Group's Central and Brand Factory, Aditya Birla's Pantaloons, Trent's Westside and Shoppers Stop have posted good sales growth numbers in the past few quarters. Pantaloons, for instance, posted 16 per cent same-store sales growth (SSG) in the June quarter, the best since it was acquired by Aditya Birla from Future Group four years ago.

Retail: Discretionary spends in recovery mode
Central, owned by Future Lifestyle Fashions (FLF), posted a 10 per cent growth in the three months ended June. Similarly, its retail segment, which includes formats such as Brand Factory, posted SSG of 10.1 per cent in the June quarter, while Westside and Shoppers Stop are expected to sustain their sales momentum in FY17 after reporting decent numbers (eight per cent SSG for both) in FY16.

PVR, the country's largest multiplex operator, for instance, reported a year-on-year increase of nine per cent in footfalls, 6.6 per cent increase in average ticket price (ATP) and 5.4 per cent increase in food and beverages (F&B) spend per head for the June quarter. Sequentially, the jump was even sharper at 35.3 per cent in footfalls, 7.1 per cent in ATP and 6.8 per cent for F&B spend per head.

What is the way forward for these firms? Riyaaz Amlani, CEO & MD, Impresario Entertainment & Hospitality, also President of the National Restaurant Association of India, says the focus for all retailers will be on getting more footfalls by using a combination of offers, discounts and product innovations. "At all levels - food, fashion and cinema - the thrust will be to try and lure the consumer into the outlets. So, food chains will have to present innovative fare backed by reasonable pricing. So goes for fashion - good collections at reasonable price. While the multiplexes will have to have strong content to draw audiences in," he says.

That positive consumer sentiment and the festive season are coinciding this year implies that there could be no dearth of footfall.